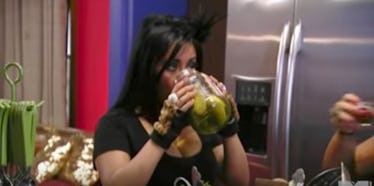 6 Surprising Reasons Why You Should Chase Your Next Workout With A Shot Of Pickle Juice
YouTube
I can't even tell you how many of my friends are obsessed with drinking pickle juice when they finish a jar of those crunchy bad boys. TBH, I've never personally seen the appeal of the sour liquid, and I'm mildly nauseous by the very thought of it. However, when I found out that pickle juice after a workout is a thing, I figured maybe it might actually be worth a shot (literally).
I really can't stress this enough though: Nothing sounds less appealing to me than chasing my HIIT circuit with (*gag*) pickle juice. But there's actually a lot of surprising benefits to it — so many, in fact, that I decided to suck it up and give it a go myself.
Drinking pickle juice after my workout wasn't quite as awful as I thought it would be (though my now seemingly permanently puckered mouth said otherwise), but if you're even more repulsed by the moss-tinted liquid than I am, there are so many ways you can incorporate the juice into your food for a pickle-packed, post-workout treat.
So, whether you're sneakily adding pickle juice to your tub of hummus, or you're literally taking shots to the face, here are six reasons why this unusual liquid should be making an appearance in your post-workout routine.