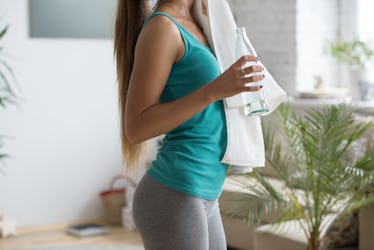 5 Changes You'll Notice If You Take A Shot Of Apple Cider Vinegar Before Your Workout
Apple cider vinegar is literally bae. Call me a freak, but I legit look forward to waking up each morning to take my a.m. shot of that bad boy. Drinking apple cider vinegar before a workout, though, is a whole other miracle we need to talk about.
According to Livestrong, gulping down a tablespoon of organic, unfiltered apple cider vinegar prior to your workout can provide your body with a plethora of vitamins and minerals that essentially work behind the scenes to get your muscles ready to feel the burn when you go hard at the gym.
From improving digestion, to stabilizing blood sugar levels, to clearing up your skin, the amazing bodily benefits of apple cider vinegar simply cannot be emphasized enough. You know that saying, "an apple a day keeps the doctor away?" Someone needs to update that sh*t to show some respect for the real GOAT here, apple cider vinegar.
Of course, we haven't even grazed the surface yet of the pre-workout benefits of ACV. So, if you're curious about them, here are five changes you might notice in your workout if you take a straight-up shot of apple cider vinegar before you hit the gym.
Or, if you're not really feeling the taste of pure ACV (I don't blame you at all), you can totally dilute it in water. Don't worry, I won't tell.