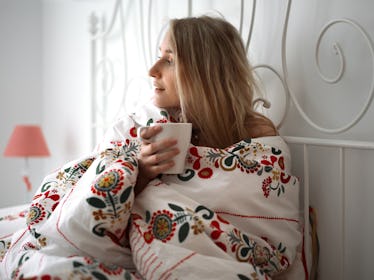 These Apple Cider Vinegar Cold Remedies Are The Life Hacks You Need To Survive Flu Season
Apple cider vinegar is basically the nectar of the gods. As one of the most consistently reinforced home remedies out there, apple cider vinegar can stabilize your blood sugar, lower your cholesterol, treat acid reflux, and even work as a facial toner. ACV is the ultimate cure-all, but with flu season upon us, you have to wonder: Does apple cider vinegar treat colds, too?
Psh, of course it does. I did say it was the nectar of the gods, after all. ACV can relieve you of your cold symptoms almost immediately upon ingestion. It works in two ways: First, apple cider vinegar helps to thin the mucus in your body, which builds into an overly thick substance when you're sick (hello, inability to breathe out of my nose). Secondly, even though it tastes extremely acidic (read: gross), ACV actually works to keep your body's pH levels balanced, which gives your immune system the best capabilities to fight off bacteria and sickness. As Organic Authority succinctly puts it, "an alkalized body is unappealing to germs."
ACV is an excellent weapon to keep in your flu-fighting toolkit, but sometimes it can seem daunting to incorporate it directly into your diet. After all, drinking straight vinegar can be a little overwhelming for people when they're healthy, let alone when they're not feeling on top of their game.
Luckily, there are plenty of options for how you can reap the benefits of apple cider vinegar, regardless of whether you love it or you can't stand it. Here are five ACV remedies to try the next time you're feeling sick as a dog.