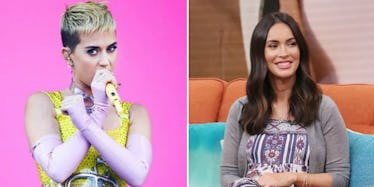 5 Celebrities Who Swear By Apple Cider Vinegar And All Its Magical Benefits
Rich Fury/Getty Images/Alexander Tamargo/Getty Images
Honestly, the benefits of apple cider vinegar remind me of Mary Poppins and the never-ending items stashed away in her purse -- they just keep coming.
Apparently, celebrities have been hip to the wonders of this vinegar elixir for awhile now.
In case you've been asleep (which, is totally fine, I'm here to help), some of your favorite A-list celebs absolutely swear by this magical stuff.
And the best part is that each of them have found different ways to use apple cider vinegar (ACV), underlining all the amazing ways it can aid in overall health.
1. Katy Perry
The pop star has used apple cider vinegar all her life, and she's even attributed it to why she's never had to cancel a show due to health-related reasons.
She told SELF,
I was drinking strange green juices and apple cider vinegar my whole childhood. My mom made sure that whatever was put into my body was good for my body. I really am glad for that, even though it was disgusting.
2. Miranda Kerr
This Victoria Secret model told Vogue Australia she loves to drizzle apple cider vinegar on her salads:
I always make a big salad with finely chopped fennel, cucumber, feta cheese, baby spinach, avocado, olive oils, and a dressing of macadamia oil, apple cider vinegar, and Bragg's amino acids.
She also touted the excellence of ACV when it comes to maintaining her gorgeous long locks:
Hair-wise, I love using coconut oil as a treatment and apple cider vinegar for shininess — you put on a little bit in the shower as a rinse, and then wash it out. It stinks a little, but then you use conditioner and the smell goes away. I'm obsessed with having clean hair.
I bet you thought a Victoria's Secret model was all glamour, huh?
Kerr is living proof that the most glamorous looks can come from the most raw, organic, and fundamentally healthy lifestyles.
Take notes, people.
3. Scarlett Johansson
As for this gorgeous actress, she loves using apple cider vinegar in her skincare regimen.
She told Elle,
A while back I started researching natural skincare. If your skin is problematic or you're having a lot of breakouts, [apple cider vinegar is] really healing. It's a little bit stinky but if you're not sleeping over at your boyfriend's it's really effective!
Good on you for lookin' out for your SO there, Scarlett. Thanks for the tip, girl.
4. Megan Fox
Fox is all about using ACV to tame the symptoms of her PMS:
It just cleanses out your system entirely. It will get rid of, for women who retain water weight from your menstrual cycle and all that, it gets rid of it really fast.
The Transformers star told The Telegraph that she also tends to use apple cider vinegar to detox her body whenever she's been on a sugar kick for too long.
I've been on a sugar kick for like 25 years, so should I just buy out the store, or...?
5. Fergie
Fergie has said she loves doing shots of apple cider vinegar:
I do vinegar shots. It has to be organic apple cider, unfiltered, two tablespoons. For some reason I've noticed a difference to my stomach.
Sounds a little gross, but if Fergie gives it a stamp of approval, it has to be *Fergalicious* right?!