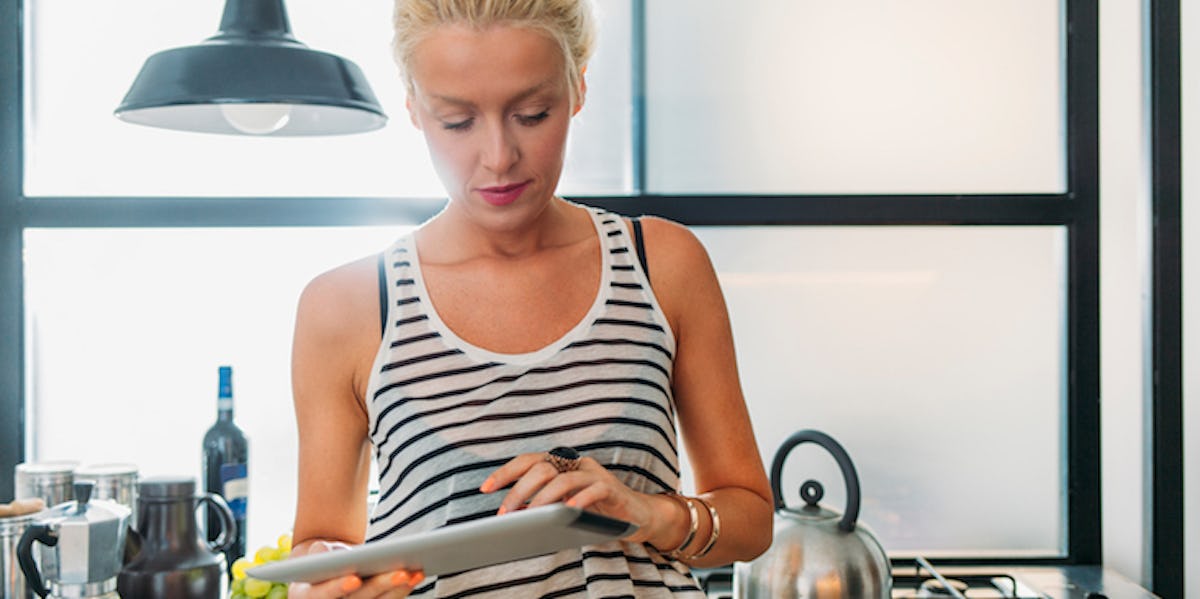 7 Genius Ways To Mask The Taste Of Apple Cider Vinegar And Still Get The Benefits
As a girl who has dedicated a huge part of her life to health and wellness, I'll implement just about anything into my diet that's been proven to be chock-full of beautifying benefits.
But, I will only do so tastefully.
Take apple cider vinegar, for example.
The fermented fruit juice is loaded with healthy benefits. It can boost your metabolism, clear up your skin, and lower your blood sugar levels, among so much more.
Unfortunately, ACV happens to have an extremely unpleasant taste.
Some may choose to drink that ish straight, but I am not about that life.
Prior to my wedding day, I tried everything under the sun to whiten my teeth, including oil pulling. I'd heard swishing coconut oil in my mouth for a few minutes at a time would brighten and strengthen my teeth.
Long story short, I spit the stuff out less than a minute in.
So, as you can see, whatever doesn't taste good is just not going into my mouth, no matter how amazing it is for my body.
There are plenty of ways to take apple cider vinegar from bitter to sweet so digestion isn't so difficult.
Here are a few variations you can try to reap all of ACV's incredible benefits.
1. Sweetened
First it's sour, then it's kind of sweet! #TBT.
The combination of raw honey and apple cider vinegar, with a splash of water for dilution, is a simple way to make swallowing this bitter cider totally tolerable.
Mix two cups of H2O with two to three teaspoons of ACV and one tablespoon of honey.
Sip at your leisure to boost your body's metabolism.
2. Juiced
What better way to sweeten this fruit's vinegar variation with a naturally sweetened fruit cocktail?
Blogger Delighted Momma combines water, apple or grape juice with apple cider vinegar, and spices things up with some cinnamon and Stevia to make a delicious tonic that's not only bearable, but enjoyable.
Your taste buds will thank you.
3. Tea
You've probably heard the term "teatox" before.
This steamy ACV sip comes from Adventures in Making bloggers Alison Lang and Rachel Beyer to aid heartburn and flush the body of harmful toxins.
All you'll need is water, apple cider vinegar, cinnamon, and honey (or maple syrup) to act as a natural sweetener.
Combine all ingredients, and either bring to a boil over the stove, or drink cold.
4. Green Smoothie
Get your greens in and aid a stubborn gut by incorporating apple cider vinegar into a smoothie.
Green Blender's Spiced Cinnamon Apple Cider smoothie is perfect on a fall afternoon, but equally as refreshing (and beneficial to your health) year-round.
With ingredients like baby spinach, walnuts, zucchini, and a whole apple (chopped), your taste buds won't be able to pick out the bitter ACV, but your body will still absorb all its benefits.
5. Salad Dressing
Another simple way to add apple cider vinegar to your diet is to create your own salad dressing with it.
Eliminate all the processed junk in store-bought drizzles, all while boosting your immune system, clearing your skin, and more while you check off a veggie serving or two for the day.
Check out this mouth-watering recipe from Epicurious that combines ACV, Dijon mustard, and honey.
6. Vegetable Soup
I love soup because, as long as you have your broth decided, you can add in literally whatever you'd like to cleanse the palette.
Ciders give a little zest to the warming dish, and this detoxifying bowl from Total Body Nourishment is high in collagen and loaded with spices, in addition to all the goods apple cider vinegar has to offer.
7. Dessert
Just because you don't identify as vegan, doesn't mean you can't enjoy this healthy lifestyle's variation of sugary sweets.
In fact, these vegan chocolate doughnuts may not look or taste healthy, but you'll notice a difference when, after the last bite, your stomach doesn't feel weighed down with grease.
Made with chickpeas, apple cider vinegar, almond milk, and vegan chocolate chips, you'll be curving your sweet tooth and nourishing your body.
Sweet (literally)!