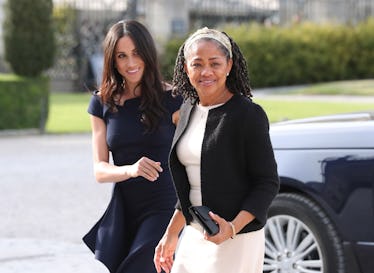 Meghan Markle's Mom's Reaction To Her Pregnancy Is So, So Touching
WPA Pool/Getty Images Entertainment/Getty Images
Congratulations, everyone! A new baby prince or princess is coming! Royal fans are celebrating after hearing the reports confirming the Duke and Duchess of Sussex, Meghan Markle and Prince Harry, are having a baby. Perhaps obviously, Markle's mom is just as happy as you are. Doria Ragland's reaction to Meghan Markle and Prince Harry's pregnancy is ecstatic and it's so much fun to watch! Ragland has been sticking close to her daughter since Meghan wed Harry in May 2018. Now that a baby is on the way, fans anticipate seeing more and more of the grandma to be! Honestly, the more the merrier. (That's what I always say when it come to royal babies.)
Kensington Palace released the following statement to Entertainment Tonight regarding Ragland's reaction to her daughter's pregnancy: "Ms. Ragland is very happy about this lovely news, and she looks forward to welcoming her first grandchild." This statement came just after Kensington Palace made the official baby announcement on the morning of Monday, Oct. 15, on Twitter. The palace tweeted a great photo of Meghan and Harry with the statement:
Their Royal Highnesses The Duke and Duchess of Sussex are very pleased to announce that The Duchess of Sussex is expecting a baby in the Spring of 2019.
Soon after the palace dropped the good news, they followed up with a message from the couple. Kensington Palace tweeted:
Their Royal Highnesses have appreciated all of the support they have received from people around the world since their wedding in May and are delighted to be able to share this happy news with the public.
SWOON. I can't even imagine how beautiful this child is going to be.
Fans are mostly excited because it means their Big Time Of Royal Adventures continues! (I just made that title up, but you guys know what I mean.) In the 11 months since Meghan and Harry announced their engagement, the UK has welcomed new Prince Louis and celebrated two royal weddings. Obviously, Meghan and Harry tied the knot in May 2018 and Princess Eugenie and her husband Jack Brooksbank just followed by saying "I do" on Friday, Oct. 12. Another baby just keeps the party going.
According to ET, a palace source told them Meghan has cleared 12 weeks in her pregnancy and is in "good health."
One thing fans are concerned about is the couple's current tour to Australia, New Zealand, Fiji, and Tonga. Their trip will last two weeks and includes two locations that come with a warning from the Foreign Office regarding the Zika virus. Both Fiji and Tonga are at risk. Still, according to ET, several royal reporters claim the Duchess received plenty of medical advice before kicking off her travels.
Harry and Meghan's little one will be seventh in line to the throne when he/she arrives, and will be about a year younger than reigning baby of the family, Prince Louis. I feel like Christmases at the palace just went from zero to sixty real fast.
Congratulations, Meghan and Harry! I can't quit you.