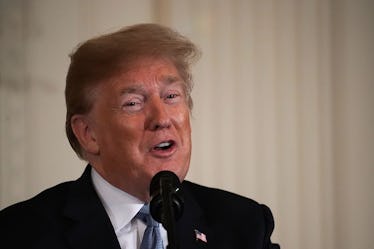 Trump Accused Google Of Rigging Search Results About Him, But I Have Some Bad News
Alex Wong/Getty Images News/Getty Images
In the event that you weren't on Twitter on the morning of Aug. 28, you missed President Donald Trump fire out some serious criticisms of Google. Donald Trump's tweets about Google accused the the company of intentionally pulling up negative coverage about him and "others." Elite Daily reached out to the White House for clarification on the tweets, but did not immediately hear back. However, there are a few factors he failed to acknowledge as to why he might be seeing more news that's critical of him.
Trump took to Twitter on Tuesday, Aug. 28 to slam Google for supposedly prioritizing "fake news." He went on to claim that "almost all" the stories about him that the outlet produces in its search results are bad, before ending the rant with a threat, in which he said the situation "will be addressed!" The tweets read:
Google search results for 'Trump News' shows only the viewing/reporting of Fake New Media. In other words, they have it RIGGED, for me & others, so that almost all stories & news is BAD. Fake CNN is prominent. Republican/Conservative & Fair Media is shut out. Illegal?
96% of results on 'Trump News' are from National Left-Wing Media, very dangerous. Google & others are suppressing voices of Conservatives and hiding information and news that is good. They are controlling what we can & cannot see. This is a very serious situation-will be addressed!
In a statement to Elite Daily on Aug. 28, Google said that searches are not used to set a political agenda. The statement reads,
When users type queries into the Google Search bar, our goal is to make sure they receive the most relevant answers in a matter of seconds. Search is not used to set a political agenda and we don't bias our results toward any political ideology. Every year, we issue hundreds of improvements to our algorithms to ensure they surface high-quality content in response to users' queries. We continually work to improve Google Search and we never rank search results to manipulate political sentiment.
Mercedes Bunz, a senior lecturer in digital technology at King's College London, also told BBC that it was unlikely that Google weighed political viewpoints in ranking search results. "Google's news algorithm is optimized for actuality and proximity of an event," she said, "but it is generally not optimized to look for political orientation."
Trump frequently lashes out against media companies whose coverage he doesn't agree with — like in July, when he reportedly accused Twitter of "shadow banning" (hiding) prominent conservatives from search results. In a public statement, Twitter denied the practice, saying that they did not "shadow ban" in general and they "certainly don't shadow ban based on political viewpoints or ideology." But Trump has also apparently failed to realize that there's simply just a lot of controversial news that comes out of his administration.
For example, he's been subject to widespread criticism since April, when Attorney General Jeff Sessions announced the "zero tolerance" policy, which permitted the separation of migrant children from their families after crossing into the United States illegally. As images and recordings of children crying for their parents while being held in detention facilities surfaced online, people started speaking out against the policy, saying that the "zero tolerance policy" was "immoral" and "wrong" — including former first lady Laura Bush and Nebraska Sen. Ben Sasse. Although the practice was scrapped in June, there are still families who have not been reunited, for reasons that, according to the government, include parents having allegedly waived their right to reunification to parents who have been deemed "ineligible" to be reunified with their children.
Then there's his former aide Omarosa Manigault Newman's tell-all book, Unhinged, about her time in the White House, and the details about Trump have dominated headlines since its release on Aug. 14. In the memoir, Manigault Newman makes a number of shocking accusations against Trump, including that there are tapes of him using the N-word (which Trump has denied ever using), and that he dissed iconic abolitionist Harriet Tubman. Elite Daily previously reached out to the White House for comment on Manigault Newman's claims, but did not hear back. That said, there seems to be a justified reason as to why Google is churning up so many bad reports as of late.
Others agree, and took to Twitter to share their feelings.
President Barack Obama's former photographer, Pete Souza, wrote that Trump's page is the true source of "fake news."
Another Twitter user echoed Souza's comment, referencing an Aug. 1 report from The Washington Post that said Trump has made 4,229 false or misleading claims in 558 days. She questioned why Trump would expect different reports when he has "zero respect" for the truth anyway.
It's unclear if Trump considered all his controversies before kicking off the Twitter rant, but perhaps it might help him get to the bottom of this "fake news."