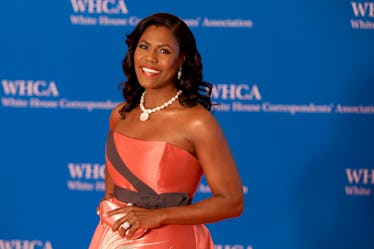 These Wild Claims From Omarosa's Book Will Have Your Jaw On The Floor
Tasos Katopodis/Getty Images Entertainment/Getty Images
By now, everyone knows that one of the biggest claims from Omarosa Manigault Newman's new tell-all book, Unhinged, is that there is allegedly a tape of President Donald Trump using the N-word during the filming of his old reality show The Apprentice. Elite Daily reached out to the White House for comment on the claim but did not immediately hear back. However, Trump has denied the claims, but there are many more accusations than that, and they're all just as explosive. If you missed them, here are six of the wildest claims from Omarosa Manigault's book.
Unhinged hit shelves on Tuesday, Aug. 14, and controversy has been swirling ever since. There are tons of troubling and shattering revelations in the book, mainly related to experiences the former aide had with the president during her time in the Trump administration before she was fired in December 2017. Since the book's debut, White House Press Secretary Sarah Sanders has swept to Trump's defense, saying the book is filled with "lies." Trump has also denounced the memoir, firing out angry messages to Manigault, calling her "wacky" and a "lowlife."
But the memoir also contains a variety of claims and comments on Trump's personal life, and they're... a lot. From the plausible to the extremely unlikely, I gathered up the wildest stuff that Manigault says, and spared you the trouble of guessing what Trump is likely to angry-tweet about next.