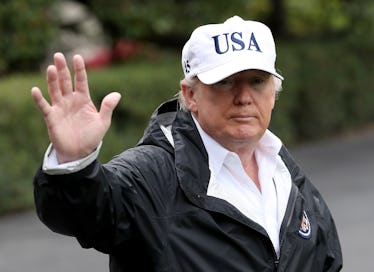 Sarah Sanders Won't Guarantee There's No Tape Of Trump Saying The N-Word, Which Is Scary
Win McNamee/Getty Images News/Getty Images
Are there tapes of Trump using the N-word, or are there not tapes of Trump using the N-word? Those are questions many people have been pondering ever since his former aide Omarosa Manigault Newman claimed that the recordings actually did exist earlier in the week. While President Donald Trump has maintained that he didn't say the word, his press secretary seemed to hesitate when asked about the situation. In fact, Sarah Sanders' response to a reported tape of Trump saying the N-word is totally unacceptable.
Sanders was grilled on Trump and his alleged use of the word during a press briefing on Tuesday, Aug. 14. At one point, NBC News Correspondent Kristen Welker asked the press secretary if she could ever "guarantee American people will never hear Donald Trump utter the N-word on a recording, in any context," to which Sanders gave a pretty disappointing answer. She replied, "I can't guarantee anything."
Sanders went on to refer Welker to tweets Trump sent out on Aug. 13, in which he maintained that the word has never been in his vocabulary. She also said that "if at any point we felt that the president was who some of his critics claim him to be, we certainly wouldn't be here," before going on boast about Trump's diversity efforts — particularly on the behalf of African Americans.
So, I guess, there's that? SMH. It feels like being able to unequivocally deny that the president used a racial slur shouldn't be that high a bar to overcome.
Trump has been under fire since Aug. 9, when The Daily Beast reported that Manigault had secretly recorded her and Trump's private conversations and had plans to use the tapes as leverage for her newly-released book Unhinged — one of which allegedly includes him using the offensive remark while filming The Apprentice.
Trump clapped back at Manigault — a previous contestant of the show — over the claims on Twitter on Aug. 13. In one tweet, he claimed that Apprentice producer Mark Burnett had assured him that no such tape exists. He also claimed that he doesn't have the "terrible" and "disgusting" word in his vocabulary and never has.
He wrote:
.@MarkBurnettTV called to say that there are NO TAPES of the Apprentice where I used such a terrible and disgusting word as attributed by Wacky and Deranged Omarosa. I don't have that word in my vocabulary, and never have. She made it up ...
However, in an appearance on Meet the Press on Sunday, Aug. 12, Manigault stood by her claims that the recording actually exists. She explained, per Vox:
I have heard for two years that it existed. And once I heard it for myself, it was confirmed what I feared the most, that Donald Trump is a con and has been masquerading as someone who is actually open to engaging with diverse communities. But when he talks that way, the way he did on this tape, it confirmed that he is truly a racist.
While the validity of the topic remains in limbo, we can bet that the speculation surrounding this matter isn't going to die down any time soon. But if Sanders (or Trump, for that matter) want to move past this, perhaps they should come prepared with a more forthright statement next time.