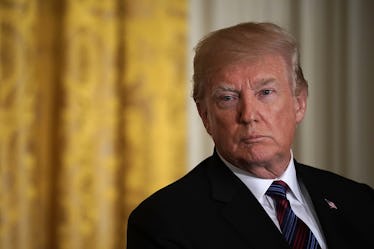 People Are Not Happy With Donald Trump's Response To The YouTube HQ Shooting
Alex Wong/Getty Images News/Getty Images
President Donald Trump is criticized pretty much every day, as most presidents are. But there are certain sensitive subjects that this president in particular comments on, seemingly without regard for the language that he's using. And this pattern continued today with Donald Trump's tweet about the YouTube headquarters shooting, which definitely pushed some buttons and had people p*ssed.
On Tuesday, April 3, a shooter opened fire at YouTube's headquarters in San Bruno, California. The San Bruno Police Department confirmed via Twitter that they were, in fact, responding to an active shooter on the scene. In a press conference in the afternoon at around 2:30 p.m. PT, San Bruno police confirmed that four people were injured and one person, believed to be the shooter, was pronounced dead from an apparently self-inflicted gunshot wound.
Shortly after the press conference, Trump tweeted out that he had been briefed and shared a reaction to the shooting. He wrote,
Was just briefed on the shooting at YouTube's HQ in San Bruno, California. Our thoughts and prayers are with everybody involved. Thank you to our phenomenal Law Enforcement Officers and First Responders that are currently on the scene.
But considering the current dialogue around gun violence, combined with the government's lack of action on gun violence prevention, a lot of people weren't happy to hear "thoughts and prayers" yet again.
And almost immediately, other users responded to the comment, reinforcing the sentiment that "thoughts and prayers" are not enough to solve the gun control problem in this country. One such user was Parkland shooting survivor Aly Sheehy, who said that this tweet from Trump won't change the reality of the situation.
Other users had equally as harsh (if not harsher) reactions to and criticisms of Trump's "thoughts and prayers" tweet.
And one user came up with an ingenious idea to avoid seeing a "thoughts and prayers" comment from any politician on social media.
But not everyone was addressing Trump's comments specifically. Shannon Watts, founder of the grassroots organization Moms Demand Action, which advocates for reasonable solutions to gun violence in this nation, tweeted out a call to action to help promote activism against gun violence and lobbying efforts for improved gun legislation. "You know the drill...," Watts wrote. "Text ACT to 64433 and help @MomsDemand defeat the gun lobby and their deadly agenda."
Cleary there is a large number of people who are frustrated with the constant "thoughts and prayers" that Trump and other politicians have repeatedly offered to victims of shootings. And part of the frustration clearly lies in the fact that Trump has done practically nothing in terms of taking action on gun control. Despite promising to take action on policies such as improving background checks, banning the sale of assault weapons, and raising the minimum age to buy firearms, Trump has backtracked on nearly all these stances. To be fair, Trump did issue a memo addressed to Attorney General Jeff Sessions on Feb. 20 recommending the ban of bump stocks in a response to the deadly school shooting at Marjory Stoneman Douglas High School in Parkland, Florida. But since that memo, unfortunately not much more has happened.
According to ABC15 Arizona and data from the Gun Violence Archive, so far there have been 57 mass shootings in 2018 alone. Since Trump has taken office, three of the 10 deadliest mass shootings in U.S. history have happened — Las Vegas in October 2017, Sutherland Springs a month later, and Parkland, Florida in February 2018. I don't even want to think about the total tally of mass shootings since the January 2017 inauguration.
Understandably, advocates and activists for gun control who want to see real action taken in Washington are frustrated to see yet another shooting in the headlines — and another "thoughts and prayers" comment from Trump. Until there is legislation introduced to Congress that will finally tackle this issue head on, there will be no shortage of angry social media users criticizing this nation's leaders for their failure to actually do something about this.