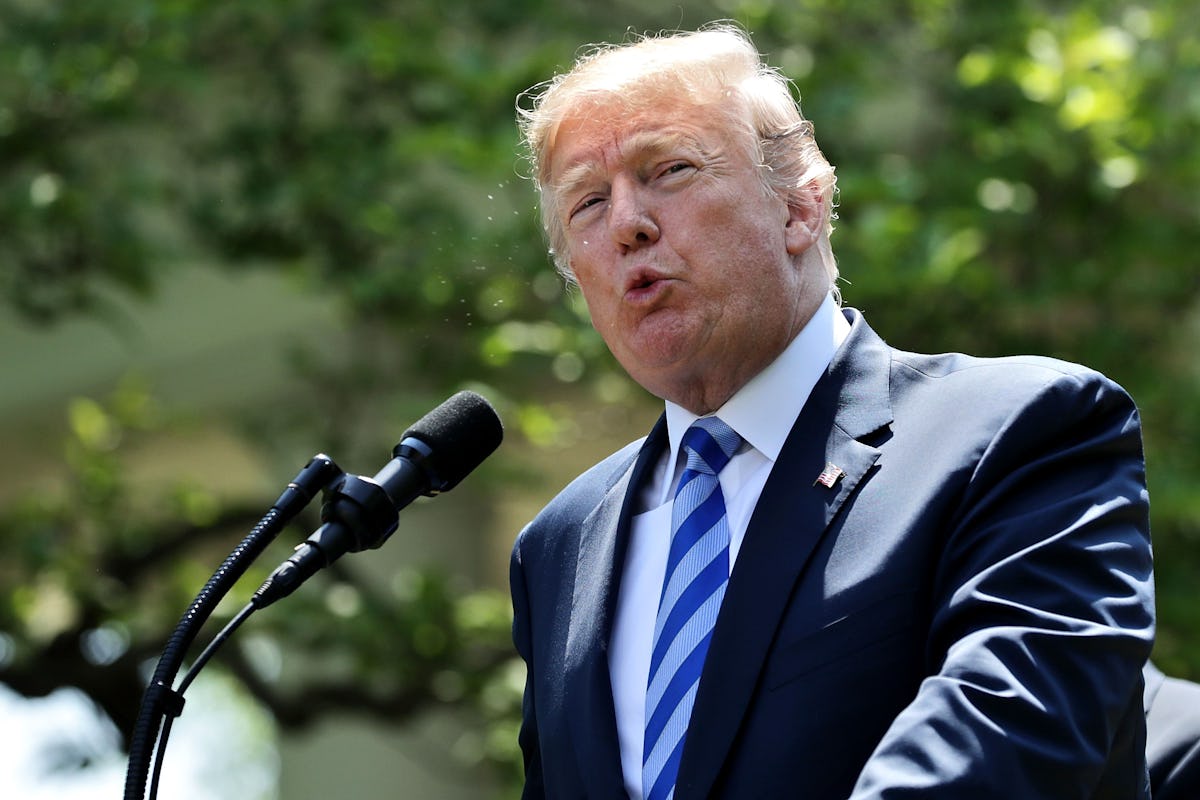 Donald Trump Says Melania's "Doing Really Well" Post-Surgery
Chip Somodevilla/Getty Images News/Getty Images
First lady Melania Trump surprised everyone on Monday, May 14, with the news that she underwent kidney surgery. But rest assured, the president has confirmed in a tweet that she is in good hands and will recover in no time. President Donald Trump's tweet about Melania's surgery says she's "doing really well" and that she will return to the White House this week.
It was a busy day for the Trump administration on May 14. The United States embassy in Israel opened its doors in at the new Jerusalem location, fulfilling one of Trump's landmark campaign promises. It was expected that this would be the biggest news story of the day. But later that evening, the first lady's communications director, Stephanie Grisham, released a statement on Trump's hospitalization. Grisham said,
This morning, first lady Melania Trump underwent an embolization procedure to treat a benign kidney condition. The procedure was successful, and there were no complications. Mrs. Trump is at Walter Reed National Military Medical Center and will likely remain there for the duration of the week. The first lady looks forward to a full recovery so she can continue her work on behalf of children everywhere.
Embolization is a medical procedure that intentionally blocks blood supply to a lesion in order to cause it to shrink and ultimately die. In an email to Elite Daily, Grisham elected not to comment on whether the surgery was planned, when the first lady was diagnosed with the condition, and if anything in her role or activities recently contributed to this health issue.
President Trump tweeted out an update on Melania's condition on May 15 and shared that she's "doing really well" in her recovery. "Will be leaving hospital in 2 or 3 days," read the tweet. "Thank you for so much love and support!"
Trump also visited Melania at the hospital post-surgery the day before o May 14. "Heading over to Walter Reed Medical Center to see our great First Lady, Melania," he shared in a tweet. "Successful procedure, she is in good spirits. Thank you to all of the well-wishers!"
These tweets from Trump mark a rare moment for the president. It's not too often that we see the president's topic of focus — in a tweet or otherwise — be dedicated to the first lady. Just a few short days ago on May 13, Trump was criticized for his Mother's Day message that very noticeably omitted the first lady, who is mother to his youngest son Barron.
Trump and the first lady's relationship has also been under the microscope since the president took office in January 2017. They're often criticized for demonstrating body language that indicates their marriage is on the rocks, or at the very least unstable. Melania isn't quick to hold Trump's hand in public, and often looks unemotional and unenthused during public appearances. Although, of course, body language doesn't tell the story of the couple's whole life.
But clearly, something as major as kidney surgery calls for Trump to update the nation on his wife's status. And I'm so happy to know that everything went smoothly and that Melania is expected to make a full recovery — and soon.
According to CNN, Melania is the first first lady to undergo a major medical procedure since Nancy Reagan had a mastectomy in October 1987. Seeing as it's been nearly 31 years since a first lady has experienced a major medical procedure while in the White House, this news about Melania naturally was a bit alarming. But thankfully, the country can let out a sigh of relief, because the first lady is doing well and she'll be getting back to work at the White House very soon.