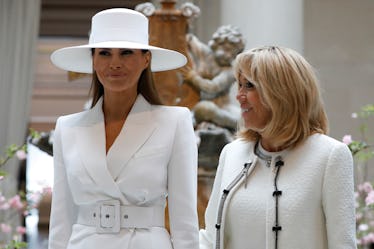 The French First Lady Thinks Melania Trump Is "Constrained" & I'm Kinda Worried
Aaron P. Bernstein/Getty Images News/Getty Images
President Donald Trump and first lady Melania Trump officially hosted their first state visit at the White House earlier this week beginning on April 23. France's President Emmanuel Macron and French first lady Brigitte Macron. The Trumps spent a great deal of time together with their French counterparts, so naturally the French first lady was asked about her time in the U.S. and with the Trumps when with French media when she returned to her home country. And the comments Brigitte Macron made about Melania Trump following her state visit are pretty concerning, to say the least.
This state visit was highlighted by the Trumps' first official White House state dinner, which Trump had a lot to do with. This event was planned in its entirety thanks to the first lady — and it was an amazing affair all around. Trump and the president welcomed the Macrons to their home for an amazing evening, and clearly the first lady made an impression on Macron during the time they spent together.
Having spent so much time together, Macron had a lot to say about her experience in the States. But the most alarming comment that Macron made was in regards to Trump's role at the White House, when she said that she thinks Trump literally cannot do anything in her new home without someone's permission. "She's a lot more constrained than me," Macron told the French newspaper Le Monde on April 27. "Melania cannot do anything; she cannot even open a window in the White House," Macron said. "She can not put her nose out. Me, every day, I'm out in Paris."
Even if you're not a fan of Trump's, hearing these things about the first lady are pretty upsetting. If this is actually what Macron experienced during her short visit to the White House, can you imagine what day to day life might feel like for Trump? If there is any truth to what Macron is saying here, it sounds like Trump is living in a jail cell rather than the most famous addresses in the United States to me. The White House did not immediately respond to Elite Daily's request for comment on the subject.
These latest comments also don't help reports that Trump supposedly feels unhappy at the White House. Shortly after President Trump took office in early 2017, reports started circulating that Trump was "miserable" in her new role as first lady. Another report in late March 2018 also said that she was unhappy with the level of scandal that her husband has seen as president, both personally and professionally. To boot, the hashtags #SaveMelania and #SadMelania were seen trending on Twitter in the early days of Donald Trump's presidency, which proves that the rest of the country thinks that she's not happy either.
But Macron didn't have only depressing things to say of Trump. Macron also told Le Monde that the U.S. first lady is "really fun," which is a pleasantly surprising thing to hear considering her reputation for appearing stoic and unemotional. In the same interview Macron stated, "She is a woman who has a lot of character but who is keen to hide it. She laughs very easily about everything but she shows it less than me." Well, at least she laughs easily. Humor is a great coping mechanism.
Macron also touched on how orchestrated the White House is in terms of her visit with the French president. According to Macron, her every move was labeled and calculated. "Everything was very framed," Macron said, "There were small labels on the ground, I put myself where I had to put myself." Hm. That definitely doesn't sound like it's conducive to spontaneity.
I sincerely hope that Trump does not feel as trapped as Macron has made it seem. The French first lady has more insider knowledge than I do — but as ever, no one knows what's going on behind the scenes in private. I just hope Trump gets plenty of chances to get out and about.