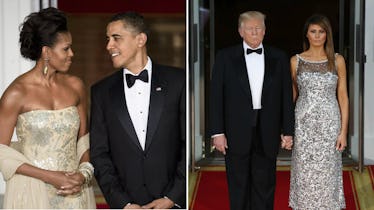 Donald Trump's First State Dinner Had A Very Different Vibe Than Barack Obama's
Brendan Smialowski/Getty Images News/Getty Images Mark Wilson/Getty Images News/Getty Images
President Donald Trump and first lady Melania Trump hosted their first official state dinner on Tuesday, April 24. Trump and his wife welcomed French President Emmanuel Macron and French first lady Brigitte Macron to the White House as their guests of honor for this lavish affair. Because this is the first time Trump is hosting this time-honored event, you might be wondering how their first state dinner matched up against his predecessor's first. And these photos of Trump's vs. Obama's first state dinner prove that these two events could not be more different.
The first lady first addressed the state dinner in a tweet on April 23, where she said that after "months of preparations," she and the president were excited to host their counterparts from France for the first ever Trump state dinner. The tweet also included a short video, which featured Melania overseeing the planning process for the event, including little details such as table settings and invitation stationary.
And now all the months of planning have finally come into place, and the first Trump state dinner has officially arrived. So how did Trump's dinner match up to Obama's? Let's take a closer look and see, shall we?
The first Trump state dinner was going to look a lot different from Obama's right off the bat. Why? Because the current president's guest list was noticeably much smaller than other state dinners seen in the past. Trump limited his guest list to around 150 guests, shutting out the media, and topping out at less than half of guest lists of the past. Despite the tradition of state dinners being bipartisan events, Trump's guest list notably included only one Democrat, Louisiana Gov. John Bel Edwards, and no Democratic Congressional leaders.
The guest list was small enough to house all those intending inside of the White House in one of the building's official dining areas, the State Dining Room. And the décor's theme color choice for the night? An opulent 24 karat gold, of course. We know how much Trump likes the look.
The table settings for the dinner were absolutely stunning, though. According to reports, Melania Trump took a personal hand in the décor, menus, and setup as a whole. The first lady reportedly did not hire an event planner or outside consultant, according to CNN, instead relying on her own taste and aesthetic.
She also shared some social media shots of the prep that went into the event.
President Trump acknowledged the work that the first lady had put into the night in his speech welcoming the Macrons. "Thank you for making this an evening to always cherish and remember," he said as diners applauded.
The most obvious difference would be the guests of honor, of course. Former President Barack Obama and first lady Michelle Obama greeted Indian Prime Minister Manmohan Singh and his wife Gursharan Kaur at their first dinner in November 2009.
Another major difference between the two events is the size and location of each. As previously mentioned, Trump's dinner had a guest list of about 150 guests, which is less than half the size of Obama's — the former president's first state dinner had a massive 320 person guest list, which included a slew of celebrities and politicians from both sides of the aisle.
Because the Obamas were hosting so many, they needed to create a special space to accommodate each guest comfortably. Instead of the White House's State Dining Room, their first state dinner was hosted in tents set up on the South Lawn of the White House.
And instead of the formal atmosphere of cream and gold, the Obamas went with a lush garden theme for their first dinner, incorporating lots of green tones in their décor to create an inviting atmosphere.
Can I add this picture to my "wedding inspo" Pinterest board? Because this set up is goals.
The simple lime green tablecloths were adorned with small and low floral arrangements filled with various purple-toned flowers, surrounded by four long tapered candles. Now this is what I call the definition of simple elegance.
But if I had to make a judgement call about which state dinner looks better, I think all I could officially say is that there's no such thing as a bad state dinner. Whether your taste runs more to monochromatic baroque elegance or colorful modernity, I think we can all agree that both of these events are pretty easy on the eye. It's so nice when everyone gets to win.