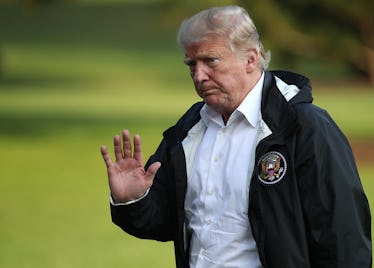 Donald Trump Congratulated A Hurricane Florence Survivor For A Messed Up Reason
Win McNamee/Getty Images News/Getty Images
On Friday, Sept. 14, Hurricane Florence hit the Carolinas and Virginia region as a Category 1 storm. Since then, residents have been trying to pick their lives back up from the devastation that hit their communities, but unfortunately Donald Trump's "new boat" comment is definitely not the encouraging words hurricane survivors need to hear at the moment. Another day, another embarrassment.
On Wednesday, Sept. 19, Donald Trump traveled to the Carolinas in order to survey the damage inflicted by Hurricane Florence. As a part of his tour, Trump visited a number of homes in New Bern, North Carolina on Sept. 20, and spoke to residents about the impact the hurricane had on their lives. According to USA Today, one resident asked Trump to survey the damage inflicted on his home, particularly the entire boat that was shipwrecked on his deck. Well, instead of offering his condolences, Trump apparently surveyed the space and asked the man whether the boat was his, which the home owner denied. Then, Trump proceeded to jokingly congratulate the man on his "new boat" that ultimately destroyed his backyard.
"At least you got a nice boat out of the deal," Trump apparently told the homeowner with a smile.
Naturally, Trump's remark sparked a huge reaction on Twitter. A lot of people were baffled by the exchange.
Trump's comment isn't only cringeworthy, but it's seriously inappropriate considering the resident's home was completely destroyed. Speaking to reporters later, Trump said the resident had told him the insurance wouldn't cover the damage. "We're going to find out the name of the insurance company," he said, per USA Today.
Sadly, this isn't the first time the president has said some less than thoughtful remarks in regards to Hurricane Florence's arrival. That same day on Sept. 20, Trump was passing out lunches to North Carolina residents when he told hurricane survivors to "have a good time."
But wait, because there's more. On Tuesday, Sept. 18, Trump took to Twitter to share a video of him addressing the damage caused by Hurricane Florence, and boy is it a doozy. In the video, Trump began by thanking relief workers for their tireless work in assisting communities and residents, but things took a turn when he started measuring Hurricane Florence's impact in regards to "wetness" and referred to it as a "tough" hurricane. He said,
I just want to thank all of the incredible men and women who have done such a great job in helping with Florence. This is a tough hurricane, one of the wettest we've ever seen from the standpoint of water. Rarely have we had an experience like it, and it certainly is not good, but the people of North Carolina, South Carolina, Virginia, all of the areas affected, you've been incredible.
Hurricane Florence hit the Carolinas and Virginia region nearly a week ago, and residents are still recovering from the devastation. Just a few hours after Florence's landfall, 600,000 residents were left without electricity per USA Today and water levels were so high that more than 100 people were waiting to be rescued from the raising waters. As of Wednesday, Sept. 19 the death toll from Hurricane Florence is 37, with 27 of those deaths from North Carolina alone, per CBS News.
Although Trump's remarks aren't necessarily the aspirational words people need at the moment, we can still do our part in helping those affected by Hurricane Florence by donating to these organizations.