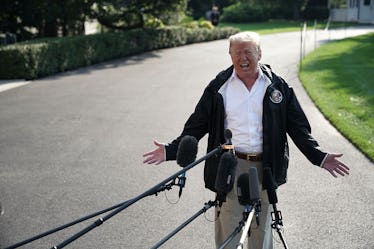 Donald Trump Said Hurricane Florence Is The "Wettest From The Standpoint Of Water"
Alex Wong/Getty Images News/Getty Images
Throughout history, United States presidents have delivered historic addresses, coined memorable quotes, and have left us all inspired. Well, here in 2018 this president is apparently taking a different approach, because Donald Trump's comment about Hurricane Florence is beyond embarrassing. Cue face palm here.
On the night of Tuesday, Sept. 18, Trump took to Twitter to share a video of him discussing the impact of Hurricane Florence, which hit the Carolinas and Virginia region on the weekend of Friday, Sept. 14. In the video, Trump thanked relief workers for all their help assisting devastated communities and areas and also expressed condolences to those who lost loved ones from this tragedy. At first, it seemed like the video was going in the right direction, but it's when Trump started describing Hurricane Florence as the "wettest" hurricane "from the standpoint of water" that things took a seriously weird turn.
He said in the video,
I just want to thank all of the incredible men and women who have done such a great job in helping with Florence. This is a tough hurricane, one of the wettest we've ever seen from the standpoint of water. Rarely have we had an experience like it, and it certainly is not good, but the people of North Carolina, South Carolina, Virginia, all of the areas affected, you've been incredible.
Let's first start off this dissection of Trump's words by addressing the fact that this video feels more like an awards speech than a post natural disaster PSA. It's definitely important to thank those working relentlessly to help communities and those impacted by Hurricane Florence, but overall Trump's delivery is stiff and a little uncomfortable to watch.
However, it's his "wetness from the standpoint of water" comment that truly stole the show. I'm not completely sure if Trump believes "wet" is considered a unit of measurement, if he's truly surprised by the amount of water involved with hurricanes, or whether he's trying to do his best Zoolander impression. Either way, it proved to be a moment that Twitter cannot stop roasting Trump for, and I doubt the laughter will die down anytime soon.
Trump's comment about Hurricane Florence may be his most absurd remark yet, but sadly meme-worthy remarks aren't necessarily uncommon from the Trump administration. Just take White House senior adviser Kellyanne Conway as an example, who set the internet ablaze when she unintentionally referenced an iconic Mean Girls quote while speaking to reporters in August about Trump.
"Why is everybody so obsessed with the President of the United States that they can't even begin or finish a sentence without mentioning his name five times?" Conway said to reporters. "It's kind of weird."
Immediately after Conway spoke to reporters, Twitter naturally blew up with hilarious jokes about the adviser's "obsessed" comment. Oh internet, how you entertain me.
As much as some might like to, we may never understand the thought process behind Trump's words. If you ask me, I'd like to think that he's just a huge Ben Stiller fan.
Today we have "wetness from the standpoint of water," who knows what quote Trump will wow us with tomorrow. Take my advice, don't close that Twitter tab.