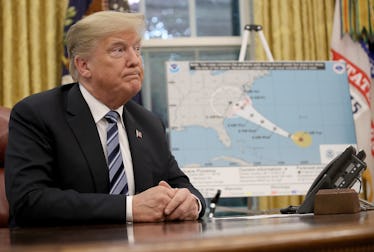 Twitter Is Roasting Trump's Weird Comment About How Wet Hurricane Florence Is
Win McNamee/Getty Images News/Getty Images
One day, we're going to hopefully be able look back at this year and laugh. It's no secret that the president has had a few questionable remarks in the past, but these tweets about Donald Trump calling Hurricane Florence the "wettest" prove this comment may be his most embarrassing yet. Another day in 2018.
On Wednesday, Sept. 19, United States President Donald Trump boarded Air Force One to visit the Carolinas after Hurricane Florence hit the region badly earlier that week. However, it was a video message that Trump posted on Twitter the night of Tuesday, Sept. 18 that got everyone's attention. In the video, Trump thanked disaster workers for all they did to help those impacted by Hurricane Florence, and then proceeded to describe the hurricane as the "wettest" the administration has ever seen. Even better? He went on to explain how "wet" it is in regards to "the standpoint of water." I don't think I'm the only one who's thinking.... what?
In the video he said,
I just want to thank all of the incredible men and women who have done such a great job in helping with Florence. This is a tough hurricane, one of the wettest we've ever seen from the standpoint of water.
Naturally this video, and Trump's confusing comments, sparked an immediate reaction among Twitter. Even though the president frequently has some really out there remarks, I have to admit this one deserves a laugh.
On Friday, Sept. 14, Hurricane Florence hit the Carolinas and Virginia region as a Category 1 storm and devastated its communities. Within a few hours of when the hurricane made landfall, 600,000 people were left without electricity and more than 100 residents had to be saved from rising waters. According to Buzzfeed News, at least 38 people have died from the storm and hundreds have had to evacuate their homes. CBS News reported on the afternoon of Sept. 19 that over 300,000 people were still without electricity after the storm.
Trump's comment about Hurricane Florence might be funny, but his administration's hurricane relief efforts haven't always been something to laugh about. It's still to be determined how Trump and his team will tackle Hurricane Florence's relief efforts, but if it's anything like their efforts following 2017 Hurricane Maria, there might be trouble.
In September 2017, Hurricane Maria hit U.S. territory Puerto Rico and it proved to be a horrific tragedy for its residents. The hurricane left people without homes, belongings, electricity, and nearly 3,000 people lost their lives. However, despite the facts, Trump has claimed that the administration's hurricane response was an "unsung success" and even took to Twitter on Sept. 13 to dispute Hurricane Maria's death toll, claiming that the statistic was "done by Democrats" in an attempt to make him "look bad."
Naturally Trump's denial of Hurricane Maria's death toll was not only a slap to the face of its residents, but government officials as well. San Juan Mayor Carmen Yulín Cruz has been a particular critic of the Trump administration's lack of help following Hurricane Maria, so time will only tell whether the Carolinas' officials will have a similar opinion of the word leader.
In the meantime, stay dry folks.