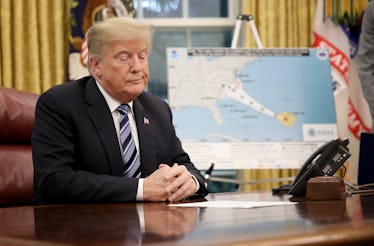 Donald Trump Is Denying Hurricane Maria's Death Toll, Despite All The Facts
Win McNamee/Getty Images News/Getty Images
As Hurricane Florence approaches the Carolinas and Virginia region, this impending natural disaster is a dismal reminder of 2017 Hurricane Maria's lasting impact on Puerto Rico. Despite the official death count from the disaster currently standing at nearly 3,000, Donald Trump denied Hurricane Maria's death toll in his most recent Twitter rant. Sigh.
On Thursday, Sept. 13, Donald Trump took to Twitter in an attempt to dispute the government-commissioned report which found that nearly 3,000 people had died following the events of Hurricane Maria. In addition, he went on to claim that the high death toll was actually "done by Democrats" as a way of making him appear "as bad as possible" in the public's eyes. He wrote,
3000 people did not die in the two hurricanes that hit Puerto Rico. When I left the Island, AFTER the storm had hit, they had anywhere from 6 to 18 deaths. As time went by it did not go up by much. Then, a long time later, they started to report really large numbers, like 3000
He continued,
This was done by the Democrats in order to make me look as bad as possible when I was successfully raising Billions of Dollars to help rebuild Puerto Rico. If a person died for any reason, like old age, just add them onto the list. Bad politics. I love Puerto Rico!
Elite Daily reached out to the White House for clarification and comment on Trump's claims, but did not immediately hear back.
Trump appears to be conflating the initial, much lower, death toll with the revised death toll, which is based on more detailed information. While the initial toll was fairly low, many noted that it was likely inaccurate due to both the way deaths were counted and the lack of available information about deaths. In August 2018, a government-commissioned report from George Washington University upped the official death toll to 2,975, counting in all deaths attributable to the storm.
Hurricane Maria hit Puerto Rico in September 2017, and it was a horrific tragedy for the territory's residents. Not only did thousands of residents die, but homes and belongings were destroyed and many were left without electricity for months following the hurricane. After Hurricane Maria, Puerto Rican officials and other members of the public openly criticized the Trump administration's lack of efforts in helping the island and it's those affected.
Despite the criticism, Trump clearly has different opinions when it comes to how his administration handled the tragedy. During an Oval Office briefing on Tuesday, Sept. 11, Trump discussed his team's response to Hurricane Maria, and referred to it as an "unsung success" for the administration. Then, on Wednesday, Sept. 12, Trump took to Twitter to boast about his administration's hurricane work in Texas and Florida, but then proceeded to call out San Juan Mayor Carmen Yulín Cruz by referring to her as "totally incompetent."
This natural disaster may have happened a year ago, but Puerto Rico is still recovering from Hurricane Maria's visit. Cruz has been one of the most vocal critics of the Trump administration's hurricane relief efforts, and on Tuesday, Sept. 11, she sat down with CNN's Anderson Cooper to address Trump's comment about Puerto Rico being an "unsung success." She said,
In a humanitarian crisis, you should not be grading yourself. You should not be just having a parade of self-accolades. You should never be content with everything we did. I'm not content with everything I did, I should have done more. We should all have done more. But the President continues to refuse to acknowledge his responsibility, and the problem is that if he didn't acknowledge it in Puerto Rico, God bless the people of South Carolina and the people of North Carolina.
Hurricane Maria was undoubtably one of the most horrific natural disasters to hit the United States in recent history. Instead of fighting about numbers, here's how you can still help those impacted by the hurricane even a year after it occurred.