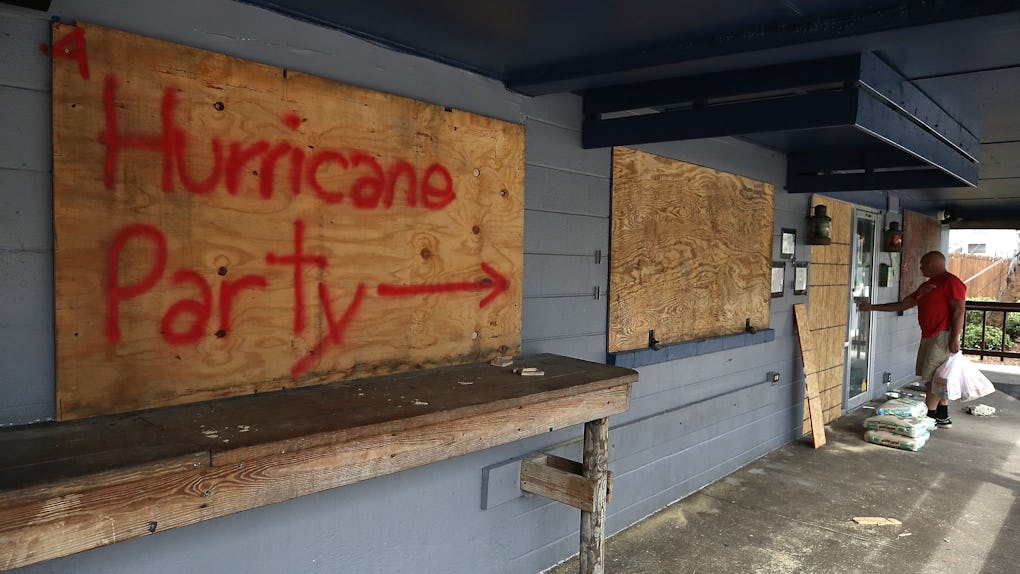 Mark Wilson/Getty Images News/Getty Images
DHS Moved FEMA Money To Pay For Immigrant Detention At The Start Of Hurricane Season
There's no denying that the Trump administration really doesn't know how to read a room, and this untimely decision is proof of that. According to reports, in June of 2018 the DHS rerouted FEMA money to pay for immigrant detention centers, despite the devastation of last year's hurricane season. So, that's probably not the best decision to make at the moment.
On Wednesday, Sept. 12, The New York Times reported that the Department of Homeland Security (DHS) transferred nearly $10 million from the Federal Emergency Management Agency (FEMA) to the Immigration and Customs Enforcement (ICE) back in June. The funds, per the New York Times, were part of $200 million shuffled around from other budgets to ICE, to fund immigrant detention and removal efforts. The report came after Oregon Sen. Jeff Merkley released a budget document on Tuesday, Sept. 11 showing the money that would come from FEMA's budget and be transferred to ICE's account. In an email to Elite Daily a DHS official confirms the transfer of $9.8 million, saying that the transfer came out of an operational account which funds things like employee training and office supplies, and that the available funds were the result of savings which brought the account's expenses under budget and were due to expire at the end of the month.
While moving funds around isn't an uncommon practice within administrations, this particular one comes at an extremely awkward time. June also marked the beginning of hurricane season in the Atlantic, and Hurricane Florence's impending arrival on either Sept. 13 or Sept. 14 is shaping up to be one of the most extreme natural disasters to hit the Carolinas and Virginia regions in recent history.
On Sept. 11, Department of Homeland Security spokesperson Tyler Houlton said via Twitter that the money came from FEMA's "routing operation expenses" and not disaster relief, adding that the reports "push a false agenda" and that the money couldn't have been used for hurricane response efforts due to "appropriation limitations." He also said that FEMA was fully prepared to deal with any upcoming disaster relief. He wrote,
Under no circumstances was any disaster relief funding transferred from @fema to immigration enforcement efforts. This is a sorry attempt to push a false agenda at a time when the administration is focused on assisting millions on the East Coast facing a catastrophic disaster.
He continued,
The money in question — transferred to ICE from FEMA's routine operating expenses — could not have been used for hurricane response due to appropriation limitations. DHS/FEMA stand fiscally and operationally ready to support current and future response and recovery needs.
But these reports are surfacing at an extremely ironic time for the Trump administration. Not only is Hurricane Florence expected to hit the Carolinas and Virginia region any day now, but it's expected to be one of the most powerful hurricanes to hit the region in decades.
The Trump administration is also still under fire for its handling of the last major hurricane to hit the United States. During an Oval Office briefing on Tuesday, Sept. 11, Donald Trump discussed his administration's response to Hurricane Maria, which hit Puerto Rico in September 2017, and claimed it was an "unsung success" for his team. Trump's comments are not only controversial, but miss the mark completely regarding the scale of the disaster. At the end of August, Puerto Rico Gov. Ricardo Rosselló raised the death toll from the 2017 hurricane to nearly 3,000.
Despite Trump's belief that Hurricane Maria was handled successfully, United States and Puerto Rican officials have criticized the administration for their lack of effort in helping the U.S. territory get back on their feet. San Juan Mayor Carmen Yulín Cruz has particularly called out the administration in the past for how they handled relief efforts following the storm, and on Sept. 11 Cruz responded to Trump's "unsung success" remark during an interview with CNN's Anderson Cooper. She said,
In a humanitarian crisis, you should not be grading yourself. You should not be just having a parade of self-accolades. You should never be content with everything we did. I'm not content with everything I did, I should have done more. We should all have done more. But the President continues to refuse to acknowledge his responsibility, and the problem is that if he didn't acknowledge it in Puerto Rico, God bless the people of South Carolina and the people of North Carolina.
As Hurricane Florence barrels toward the Carolinas region, keep these residents in your thoughts. Let's hope ample help goes to those impacted.