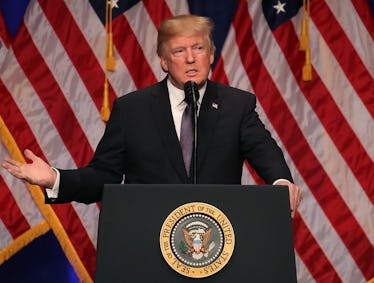 Trump Is Reigniting His Feud With San Juan's Mayor Ahead Of Hurricane Florence
Mark Wilson/Getty Images News/Getty Images
You never really know who or what President Donald Trump is going to take aim at — it just happens. On Wednesday, Sept. 12, he chose San Juan Mayor Carmen Yulín Cruz as his target in a combative message shared on Twitter. Unfortunately, there has already been quite a lot of drama between the two, and Donald Trump's new tweet about Carmen Yulín Cruz is rehashing all of it.
With another major hurricane bearing down on the United States, the administration's response to the last major storm to strike the country is on many people's minds. On Wednesday morning, Trump took to Twitter to defend his response to Hurricane Maria, the disaster that ripped through Puerto Rico in September 2017 and left nearly 3,000 people dead. In his message, Trump praised himself and harshly criticized Yulín Cruz, suggesting that she had been partially to blame for what many people have called a slow reaction to Hurricane Maria, writing that she is "totally incompetent." The tweet read:
We got A Pluses for our recent hurricane work in Texas and Florida (and did an unappreciated great job in Puerto Rico, even though an inaccessible island with very poor electricity and a totally incompetent Mayor of San Juan). We are ready for the big one that is coming!
His post comes as the Trump administration prepares for another potential disaster, with Hurricane Florence expected to make landfall in the Carolinas on Sept. 13. It also comes just a day after Trump made similar comments, praising his administration's response to Puerto Rico in a news briefing. According to The Hill, when asked what he learned from the response to Hurricane Maria on Tuesday, Sept. 11, Trump said, "I think that Puerto Rico was an incredible, unsung success."
The comments sparked outrage online, with even Yulín Cruz herself sending out a tweet criticizing Trump. "Trump simply does not get it. Thus his neglect towards Puerto Rico cost about 3,000 lives," she wrote. "Unfortunately, it seems he will never get it."
Yulín Cruz added,
Success? Federal response according to Trump in Puerto Rico a success? If he thinks the death of 3,000 people [is] a success God help us all.
Trump has been criticized routinely for his response to the tragedy and his recovery efforts, as Puerto Ricans went weeks and months without clean water, electricity and other urgent necessities in the wake of the storm. Even so, he has continually touted his reaction to Hurricane Maria. In August, when Puerto Rico revised its death toll from 64 to 2,975, he bragged that the government had done a "fantastic job." He also appeared to blame Puerto Rico for its lack of recovery, claiming that the island's power plant was already "dead," "shut," "bankrupt," and "out of business" before the hurricane made landfall. His assertion wasn't exactly true, though. While the territory's energy company, PREPA, did in fact file a form of bankruptcy that year to manage its $9 million debt, it was still up and running until the storm knocked the power out, according to Fortune.
Following the remarks, Yulín Cruz shot back on MSNBC. "He just doesn't get it, he's incapable of getting it," she said. "We died because bureaucracy and inefficiency took a hold of things."
But the two have been at it much longer than that. Mere days after the hurricane hit, Trump also blasted Yulín Cruz on Twitter, claiming she had "poor leadership." He also suggested Puerto Ricans weren't doing enough to help themselves. In a series of tweets, he wrote:
The Mayor of San Juan, who was very complimentary only a few days ago, has now been told by the Democrats that you must be nasty to Trump. Such poor leadership ability by the Mayor of San Juan, and others in Puerto Rico, who are not able to get their workers to help. They want everything to be done for them when it should be a community effort.
Clearly, he hasn't let up on Yulín Cruz since, and it doesn't look like that's changing any time soon.