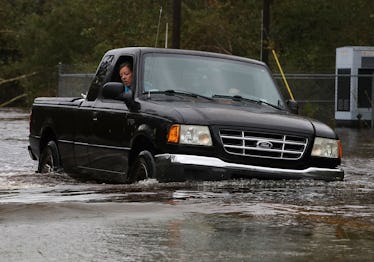 These Photos Of The Carolinas After Hurricane Florence Are Devastating
Mark Wilson/Getty Images News/Getty Images
The wettest tropical storm cyclone on record in the Carolinas, Hurricane Florence battered the states with pouring rains and heavy winds over the weekend of Sept. 14. The storm's catastrophic impact left the area with widespread flooding, extensive power outages and more, as residents struggle to sort through the wreckage to pick up the pieces. Here are just a few photos of the Carolinas after Hurricane Florence that show exactly what they're dealing with in the aftermath of the monstrous storm.
Hurricane Florence first struck the Carolinas as a Category 1 storm on Friday, Sept. 14. Just a few hours after the storm made landfall, 600,000 people were already without electricity and more than 100 people were waiting to be rescued from rising waters. Though the hurricane was downgraded to a tropical storm just hours after it made impact, those numbers quickly rose as it continued to strike along the coast, with at least 32 people losing their lives in the wake of the storm, according to the BBC.
Entire communities are submerged in water, roads are closed, and many people are still waiting to be rescued from submerged inland neighborhoods, CBS News reported. If you're wondering about the extent of the devastation left behind by Florence, these photos certainly show it.
Rescuers and civilians have been photographed trying to escape and navigate around the massive flooding in their communities.
Many buildings are almost completely submerged in flood water, or have suffered major wind damage.
Other photos show civilians trying to salvage what they can...
...and providing aid to others who were forced to evacuate, lost what they had in the storm or may be struggling financially.
Although recovery efforts are underway, the threat to lives and damage done by Florence is still unfolding. According to USA Today, river flooding could continue to wreak havoc on vulnerable areas across the region for days, or even weeks. Forecasters also warned that it could take up to two weeks for the runoff from the storm to drain downstream back to the coast. However, 20 rivers in the Carolinas are expected to overflow this week, according to USA Today, which could prolong that process.
In the meantime, officials have already started warning residents of the dangerously high waters. According to CBS News, on Sept. 17, North Carolina Gov. Roy Cooper urged people who were evacuated from the most affected areas to stay away because of closed roads and heavy flooding, saying in a news conference, "There's too much going on."
"This a monumental disaster for our state," Cooper continued. "In many parts of North Carolina the danger is still immediate."
AccuWeather meteorologist Mike Doll echoed Cooper's comments, saying, per USA Today:
Flooding has become catastrophic in some areas, and access to some communities will only be possible by boat into later this week. This is truly a life-threatening situation.
Those affected by the storm are going to need help recovering. If you want to reach out and help them start moving forward, here are a few things you can do.