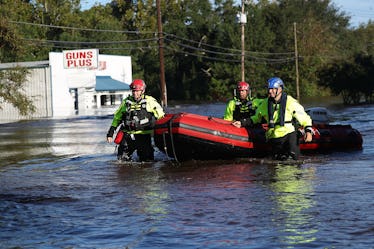 You Can Donate To These Organizations To Support Victims Of Hurricane Florence
Joe Raedle/Getty Images News/Getty Images
Hurricane Florence brought catastrophic damage to the Carolinas after it made landfall on Friday, Sept. 14. In the wake of the hurricane, storm surge has caused significant flooding in various areas across the region, leaving people scrambling for basic necessities and facing the difficult task of rebuilding their homes and communities. If you're interested in helped those affected by the storm, here's how to donate for victims of Hurricane Florence.
As a general rule of thumb, monetary donations are often the best ways to help out during national disasters, according to the Center for International Disaster Information (CIDI), part of the United States Agency for International Development (USAID). Otherwise, valuable time could be wasted by having workers sift through donated products that aren't necessarily helpful or in demand. If you choose this option, you might want to consider donating to the American Red Cross. The organization partnered up with Google to match up to $1 million for every dollar spent on Hurricane Florence relief efforts, so you can make twice the difference with your donation. Just head here to donate to the group, or you can call 1-800-RED-CROSS, or text "RED CROSS" to 90999 to make a $10 donation.
GoFundMe also set up a list of verified campaigns to raise money for victims of Hurricane Florence, including one set up by the platform itself. The platform says the funds will go to those who "need it most," but so far, the campaign has only raised about $3,000 of its $200,000 goal. If you're interested in this particular outlet, donate here.
If you'd prefer to donate products instead, there are several Carolina-based recovery efforts that are collecting them. According to The New York Times, the Diaper Bank of North Carolina, based in Durham, is accepting donations for diapers and feminine hygiene products. Or, people can buy other in-demand items through its Amazon wish list — a super easy and quick option for anyone looking to help.
State officials have also offered up some ideas for places people can donate. North Carolina Gov. Roy Cooper of North Carolina said via his website that the North Carolina Disaster Relief Fund was accepting donations to those in immediate need of aid in the aftermath of Florence. You can do so online or by texting FLORENCE to 20222. Other officials have asked people to volunteer to help with recovery efforts, or to bring food donations to local food banks or other charities. You can find a list of some of those charities here.
Then, of course, if you're not in a position to make either monetary or product donations, the American Red Cross is looking for people to donate blood. To see which blood centers are closest to you, head over to America Blood Centers' website and type in your zip code to receive the best options.
Honestly, with the Carolinas suffering such catastrophic damage from the storm and being at risk for even more damage, anything counts. For people who lost everything — and many people are in this exact situation — no donation is too big or too small. Whatever you're able to give, the residents of the affected areas will surely appreciate it.