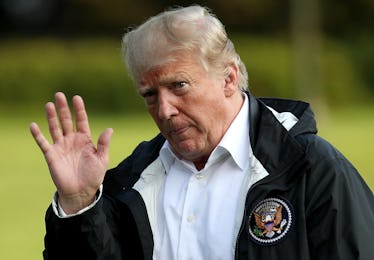 Donald Trump Told Hurricane Survivors To "Have A Good Time" — Again
Win McNamee/Getty Images News/Getty Images
Does President Donald Trump get prepped before they send him off to interact with survivors of natural disasters? During his visit to to North Carolina on Wednesday, Sept. 19, Donald Trump told hurricane survivors to "have a good time," and it wasn't the best choice of words. Sadly it's not the first time, either.
Hurricane Florence hit the Carolinas coast over the weekend of Sept. 14, and as of Wednesday, Sept. 19, the death toll is up to 37, with 27 of those in North Carolina alone, according to CBS News. As of the same day, the flood risk in many areas was still high, and thousands were still without power. In his presidential duties, Trump took a trip to North Carolina on Wednesday to see the aftermath of the hurricane. According to HuffPost, while the president was distributing lunches to the people, he said to one man, "Got it? Have a good time," as if he were handing out hotdogs at a ballgame.
I wish I could say this was a first time thing for the president, but unfortunately it seems to be par for the course. In 2017, while visiting the NRG Center in Houston, Texas after Hurricane Harvey, Trump told survivors to "have a good time" as he was leaving, according to Business Insider. Hurricane Harvey killed around 82 people.
I also wish I could say the "have a good time" remark was the only time Trump made a misstep during his visit to North Carolina — but I can't. During that same trip, the president ran into another tone problem. While Trump was surveying some of the damage caused by Hurricane Florence, he noticed that a boat had crashed into the deck of one of the homes. Trump asked, "is this your boat?" The owner said no, to which Trump replied, "at least you got a nice boat out of the deal," according to HuffPost. I think the saying best used here is: "too soon."
According to USA Today, the home owner explained to Trump that his insurance is refusing to cover the damage. Trump later told reporters that he promised to find out the name of the insurance company, though didn't mention what the next move would be. Trump added, "I think it's incredible what we're seeing. This boat just came here."
Even before Trump set foot in North Carolina, his comments about Hurricane Florence were a little odd. On Sept. 18, the president posted a video to Twitter thanking the relief workers, and in the process said Florence is the "wettest" hurricane he's ever seen from the "standpoint of water." Trump said in the video,
I just want to thank all of the incredible men and women who have done such a great job in helping with Florence. This is a tough hurricane, one of the wettest we've ever seen from the standpoint of water. Rarely have we had an experience like it, and it certainly is not good, but the people of North Carolina, South Carolina, Virginia, all of the areas affected, you've been incredible.
If you're scratching your head over that "wettest comment," well, you're not alone. Twitter was also a little confused, and quite frankly embarrassed by Trump's message.
Everyone misspeaks from time to time, but maybe Trump should give his words a little more consideration. Or just bring some crib notes. Those always work, right?