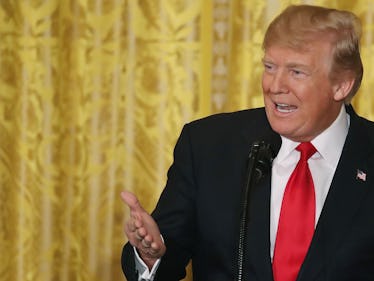 Donald Trump Recognized Martin Luther King Jr. Day & Eyebrows Everywhere Raised
Mark Wilson/Getty Images News/Getty Images
On Friday, Jan. 12, Donald Trump followed presidential tradition by recognizing Martin Luther King Jr. Day. But Trump's Martin Luther King Jr. Day proclamation rang juuuuust a bit hollow given the news cycle that surrounded it. Honestly? The timing just could not have been worse for this particular speech and this particular president.
"Today we celebrate Dr. King for standing up for the self-evident truth Americans hold so dear, that no matter the color of our skin, or the place of our birth we are all created equal by God," President Trump said during the signing of the proclamation, which was done in the White House on Friday.
This comes in stark contrast to the comments Trump allegedly made in a meeting about immigration, which were reported by The Washington Post on Thursday, Jan. 11. According to the Post, Trump referred to Haiti, El Salvador, and African countries as "sh*thole countries."
"Why are we having all these people from sh*thole countries come here?" Trump reportedly said in the meeting. He also allegedly asked why "we need more Haitians," adding that the U.S. should "take them out." In a tweet on Friday morning, Trump denied that he used the term "sh*thole," saying the language he used in the meeting "was tough, but this was not the language used."
As Friday morning crawled on, the news conversation did not move on from Trump's outrageous reported words about immigration. So with that in mind, Trump's Martin Luther King Jr. Day statement was, well, not exactly well-timed... and many people did not exactly have the best responses to it, given the context.
In fact, reporters in the room had some questions for President Trump.
And many people who weren't in the room had some Thoughts about Trump's Martin Luther King Jr. Day pronouncement.
Trump was joined in making the proclamation by Ben Carson, his former Republican nominee competitor and the current Secretary of Housing and Urban Development, as well as Martin Luther King Jr.'s nephew Isaac Newton Farris Jr.
"If my uncle were here today, the first thing he would say is, what are we or what are you doing for others?" Farris said.
That's a great question, especially at this moment in the administration. Trump as both a president and citizen has been heavily criticized for the rhetoric he has used when it comes to race. This criticism dates back to his start in the real estate business, when the Justice Department sued Trump Management for allegedly discriminating against black people. The Trumps countersued for defamation and ultimately settled in a consent decree in 1975, in which it was not said that the company discriminated, but they had to change policies to ensure discrimination would not happen.
Trump's rhetoric within the political spectrum is equally fraught when it comes to race. He rose to political prominence by pushing a conspiracy theory that the country's first black president was not born in the United States. He began his campaign for president in 2015 by referring to Mexican immigrants as "rapists," criminals, and drug traffickers. As president, Trump faced criticism for his response to a white nationalist rally in Charlottesville, Virginia, where Trump claimed that the counter-protesters were equally to blame for violence that broke out.
Meanwhile, Trump's policies have not exactly followed the idea that "no matter the color of our skin, or the place of our birth we are all created equal by God." In his first month as president, he instituted a travel ban on Muslim-majority countries that included a ban on Syrian refugees. He is also trying to end the Deferred Action for Childhood Arrivals (DACA) program for Dreamers.
And when it comes to the specific countries Trump reportedly mentioned in the immigration meeting, policies are not much better. This week, the administration announced that the approximately 200,000 people from El Salvador who have been living in the U.S. since earthquakes caused destruction in their country in 2001 must leave the country. In November, the administration announced that the approximately 59,000 people from Haiti living in the U.S. following their own earthquakes in 2010 must also leave.
It really makes you wonder what Dr. King would have to say about all this.