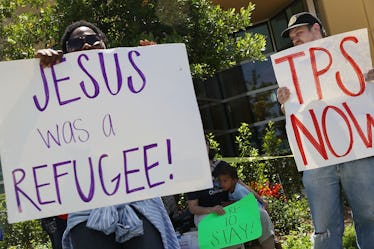 This Decision By Donald Trump Could Force Nearly 60,000 Deportations
Joe Raedle/Getty Images News/Getty Images
On Tuesday, Nov. 21, President Donald Trump's team announced another decision affecting the fates of non-U.S. citizens in our country. The Trump administration is forcing Haitians to leave America by ending the program that has allowed them to stay. By refusing to renew Temporary Protected Status (TPS) for Haitian refugees, the administration has given the 59,000 people on the program 18 months to leave the country.
The program allowed Haitians to live and work in the country following the 2010 earthquake that demolished the Caribbean island nation and claimed the lives of hundreds of thousands.
"Another heartless decision by the Trump Administration, this time ending temporary protected status for Haitians in the US," Senate Minority Leader Chuck Schumer tweeted. "Despite two hurricanes in the last 6 months alone, @DHSgov decided to terminate #TPS for >50k Haitians. A simple extension would have made the most sense. #SaveTPS," he added.
Back in May, John F. Kelly, who was then heading the Department of Homeland Security, had extended the Haitians' TPS status for a six-month term. He had signaled, with that shorter-than-usual renewal, that it was time for Haitians to begin looking to relocate. Monday's decision was made by acting secretary Elaine Duke, who gave them until July 2019 to leave.
The decision was met with outrage on social media, with many using the hashtag #SaveTPS.
According to the New York Times, about 30,000 children have been born in the U.S. to Haitians protected under the program in the last several years. Those children would be shielded from deportation, and parents may try to claim an exemption given their circumstance. But that isn't a foolproof or reliable option, and many parents will have to decide between potentially leaving their children or taking them with them back to Haiti.
"Today DHS and the Trump administration turned 50,000 Haitian immigrants who are legal workers through the TPS program, and decided to take away their livelihoods and turn them into targets of deportation," Maria Elena Durazo, General Vice President of immigrant advocacy group UNITE HERE, said in a statement. "These TPS holders have lived and worked in America for nearly a decade, have American born children, and deep roots in their communities. The Trump administration and DHS are criminalizing 50,000 legal workers," she added, pointing out that many are employed in the hospitality industry. The group states it plans to protest at Mar-A-Lago on Tuesday.
Trump's decision to remove TPS status for Haitians follows a similar decision made on Nov. 6, stating that about 2,500 Nicaraguans on the program would also lose their protection by January 2018, and one made on Sept. 18 terminating protection for Sudanese nationals as of November 2018.
The TPS program, established by President George H. W. Bush in 1990, is administered by the U.S. Citizenship and Immigration Services (USCIS) under the Department of Homeland Security (DHS) and has protected about 320,000 people since according to the New York Times.
The program is designed to offer temporary residency to foreigners under certain extreme conditions in their home country, including armed conflict, such as civil war, or natural disasters. Essentially, protection can be given for situations that prevent citizens from returning to their country safely, or in some cases, if a country is "unable to handle the return of its nationals adequately," as described by USCIS. Similar to DACA, beneficiaries have to meet a list of eligibility requirements and completed forms to in order to file, and continue to re-register at certain intervals.
Senator Bill Nelson of Florida called the decision "unconscionable," adding that the circumstances in Haiti aren't favorable for returning.
Other administrations have removed TPS status before. Obama's administration in 2016 removed the status for refugees of three west African countries several years after an Ebola outbreak that had swept the region had passed, granting a six-month extension through November.
It's unclear if public pressure on the DHS will cause the Trump administration to reconsider its decision and grant an extension. But if not, nearly 60,000 Haitians could be forced out in the next year and a half.