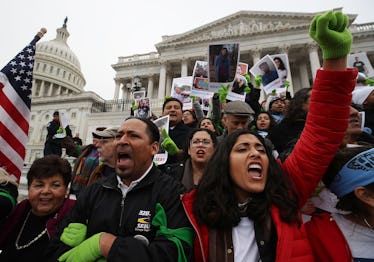 A Federal Judge Has Ordered The Trump Administration To Maintain DACA, For Now
Mark Wilson/Getty Images News/Getty Images
Based on President Donald Trump administration's decision last September to end the Deferred Action for Childhood Arrivals, the program, also known as DACA, was set to end in early March. Now, whether or not that deadline will be put into effect has been put into doubt, after a decision at a Federal District Court in San Francisco on Tuesday, Jan. 9. There, a federal judge ordered DACA to be maintained by the Trump administration, at least for now.
DACA, a program first created by former President Barack Obama's administration, offers protection from deportation to over 700,000 people who came to the United States as children and allowed them to obtain work permits, among other benefits.
What The Order Entails
Tuesday's court order was made by California's Judge William Alsup, who issued an injunction blocking the Trump's administration from ending DACA while the administration's decision gets challenged in court. When Attorney General Jeff Sessions announced in September that DACA would be rescinded, the decision drew legal challenges from attorneys general from a number of states under Democratic control.
Judge Alsup also ordered that DACA recipients — also known as Dreamers — should be able to renew their protected status, whereas the Trump administration's decision to end DACA issues a deadline for renewal that ended last October.
"Plaintiffs have clearly demonstrated that they are likely to suffer serious irreparable harm absent an injunction," Judge Alsup said in a written opinion explaining the injunction. "Before DACA, Individual Plaintiffs, brought to America as children, faced a tough set of life and career choices turning on the comparative probabilities of being deported versus remaining here. DACA gave them a more tolerable set of choices, including joining the mainstream workforce."
The judge also wrote that a tweet sent by President Trump in September proved that maintaining DACA was in the "public interest."
How The Trump Administration Has Reacted
In a widely reported statement, a spokesperson for the Department of Justice indicated that the Trump administration would fight back legally against the injunction issued at the Federal District Court in San Francisco on Tuesday.
Tonight's order doesn't change the Department of Justice's position on the facts: DACA was implemented unilaterally after Congress declined to extend these benefits to this same group of illegal aliens. As such, it was an unlawful circumvention of Congress, and was susceptible to the same legal challenges that effectively ended DACA ... The Justice Department will continue to vigorously defend this position, and looks forward to vindicating its position in further litigation.
The "further litigation" that statement mentions could amount to a simple appeal of Judge Alsup's ruling, which could result in a different judge disagreeing with the injunction.
Such an outcome would not be dissimilar from what happened after the Trump administration issued a travel ban in 2017, a decision which triggered multiple challenges in court and resulted in different decisions from different judges on the legality of the ban.
What Will Happen To DACA Long Term?
The decision at the federal court in California came on a day that President Trump, sitting in between two members of the opposing party, hosted a televised meeting between Republicans and Democrats, which resulted in a candid conversation related to the very issue of DACA and immigration reform.
During the meeting, the president expressed optimism that both parties could come up with legislation that would permanent address the matters DACA sought to address itself.
"I feel having the Democrats in with us is absolutely vital because it should be a bipartisan bill. It should be a bill of love. Truly, it should be a bill of love, and we can do that," the president said during the meeting.
A permanent DACA fix would likely require agreements on border security as well, the president said. Trump also said he would sign whatever bill results from negotiations between the two parties.
Ultimately, the result of those negotiations are much more likely to have an affect on the fate of Dreamers than the Tuesday night decision from a federal judge.