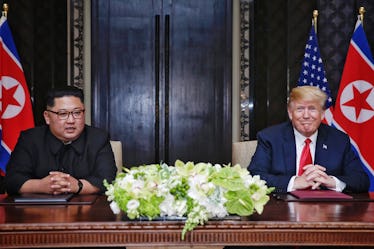 Donald Trump Made A Fake Movie Trailer Where He & Kim Jong-Un Are Heroes, & What
Handout/Getty Images News/Getty Images
When reporters headed into a press conference with President Donald Trump on June 12 in Singapore, they probably expected the commander-in-chief to discuss his initial one-on-one with Kim Jong-un that occurred that day. However, the commander-in-chief chose to play the audience a film about world peace instead, and Donald Trump's fake movie trailer where he and Kim Jong-un are besties changing the world is... a lot. So, buckle up folks.
President Donald Trump showed Kim the film during their historic summit in Singapore on June 12, according to CNN. The four-minute flick is formatted like a Hollywood-style movie trailer and includes a voiceover of a man detailing how the two leaders could make a major impact on the world. It begins by showing clips of people from all over the world, casting the two leaders as men with a "destiny" to obtain world peace.
"Seven billion people inhabit planet Earth," the voiceover starts. "Of those alive today, only a small number will leave a lasting impact. And only the very few will make decisions or take actions that renew their homeland and change the course of history." The film then switches to images of Trump and Kim.
At one point in the film, the narrator adds:
Two leaders, one destiny: A story about a special moment in time, when a man is presented with one chance that may never be repeated. What will he choose? To show vision and leadership? Or not.
Pop some popcorn, grab a Coke then check it out below.
This is... bizarre, in my opinion. But according to Trump, it was a hit with Kim.
When asked about the video during the press conference, Trump said, per CNN:
We had it made up. I hope you liked it. I thought it was good. I thought it was interesting enough to show. One in English and one in Korean. And we had it made up. I showed it to him today. Actually, during the meeting — toward the end of the meeting. And I think he loved it.
Cool, good to know that this very important diplomatic meeting included some time to appreciate Trump's international relations fanfic.
Aside from the film's debut, a lot went on at the Trump-Kim summit. Most notably, both leaders signed a document which included an agreement for both sides to hold follow-up negotiations to "work toward the complete denuclearization of the Korean Peninsula." However, Business Insider notes that experts have called the commitment "generic," "depressing," and meaningless, as it contained vague language and didn't include any new promises for achieving that goal.
The document also said Secretary of State Mike Pompeo will lead the additional negotiations following the summit. It read:
The United States and the DPRK [Democratic People's Republic of Korea] commit to hold follow-on negotiations, led by the U.S. Secretary of State, Mike Pompeo, and a relevant high-level DPRK official, at the earliest possible date, to implement the outcomes of the US-DPRK summit.
Trump also announced that the United States would no longer hold "war games," which are joint military exercises with South Korea. He said that continuing to hold the games while negotiating with North Korea was "inappropriate," and also called the exercises "provocative," per CNBC.
But one of the most groundbreaking parts of the summit was the surprisingly civil words that both Trump and Kim shared about each other upon meeting in Singapore on June 12. Despite the two frequently trading barbs, insults, and even threats, at the summit both leaders were all smiles. At the beginning of the meeting, Trump said:
I feel really great. This is an honor for me to be here, and we will have a terrific relationship going forward. We're going to have a great discussion, and I think, tremendous success.
Kim echoed Trump's comments, saying their past had "placed many obstacles in our way, but we overcame all of them and we are here today."
It may be a while before we ever see these two hanging out in person again, but if you keep this film on a loop, you'll probably never even notice.