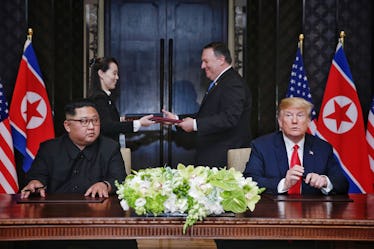 Here's What Donald Trump & Kim Jong-un Agreed To At The Summit In Singapore
Handout/Getty Images News/Getty Images
It's over. On Tuesday, June 12, President Donald Trump departed from Singapore, hours after a historic meeting with North Korean leader Kim Jong-un. Now that the president has boarded Air Force One, attention can turn to exactly what happened at the Trump-Kim Summit.
One of the more tangible results of the meeting is a document signed by the two leaders, which committed to four resolutions, including an intention to "work toward the complete denuclearization of the Korean Peninsula."
The document also states that Secretary of State Mike Pompeo will lead additional negotiations in the aftermath of the summit.
"The United States and the DPRK [Democratic People's Republic of Korea] commit to hold follow-on negotiations, led by the U.S. Secretary of State, Mike Pompeo, and a relevant high-level DPRK official, at the earliest possible date, to implement the outcomes of the US-DPRK summit," the document read.
During a press conference held after signing the document, President Trump also announced that the United States would no longer hold "war games," joint military exercises it conducts with South Korea. The president said that holding the exercises while negotiating with North Korea would be "inappropriate," while also calling the war games "provocative."
On Twitter, NPR's South Korea-based correspondent, Elise Hu, reported that South Korea's leadership "requires more clear understanding" of Trump's intention to end the war games, which implies a lack of cohesion between the two allies.
Trump's remarks to reporters throughout the summit were generally laudatory of Kim Jong-un, the 30-something dictator who inherited the leading role of the Kim dynasty in 2011, after the death of his father, Kim Jong-il.
Kim's family has been in power in North Korea for over seven decades, dating back to the Korean War in the 1950s.
"I learned he's a very talented man," Trump told reporters in Singapore. "I also learned that he loves his country very much."
When asked how the comments on Kim's talent squares with the United States' criticisms of North Korea's human rights record, Trump added, "Well he is very talented. Anybody who takes over a situation like he did at 26 years of age and is able to run it, and run it tough — I don't say 'he was nice' or I don't say anything about it."
Trump himself has criticized North Korea in the past, of course, at a time when the idea of the president and Kim meeting at a negotiation table would have seemed improbable.
During a speech before the United Nations general assembly in September 2017, Trump said, "No one has shown more contempt for other nations and for the wellbeing of their own people than the depraved regime in North Korea. It is responsible for the starvation deaths of millions of North Koreans, and for the imprisonment, torture, killing, and oppression of countless more."
During his time before reporters in Singapore, Trump also acknowledged the non-binding nature of the document he and Kim signed, openly confronting the idea that the summit could ultimately be deemed unsuccessful.
"I think he's going to do these things. I may be wrong, I mean, I may stand before you in six months and say, 'Hey I was wrong," Trump said on Tuesday. "I don't know that I'll ever admit that, but I'll find some kind of an excuse."
Indeed, North Korea has made similar pledges in the past, signaling a willingness to end its weapons programs, without ever bringing those intentions to fruition. Nonetheless, the president has expressed optimism that both North Korea and the United States would indeed move forward towards successful and consequential negotiations.
In an interview with ABC News' George Stephanopoulos, Trump said, "This is different, I believe you'll find in the years to come, George. I think you're going to find this different."
Only time will tell.