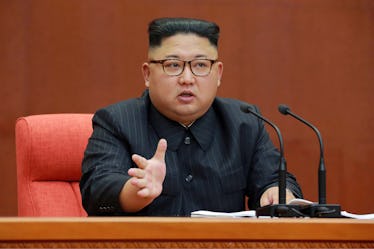 North Korea's Latest Threats Of War Against The U.S. Are Seriously Ominous
STR/AFP/Getty Images
Donald Trump has been goading North Korea over and over again — and the country is slamming right back. In news that literally no one wants to hear right now, North Korea is threatening the United States with war. Oh, and the country's foreign minister is blaming Trump's rhetoric for this potential mess.
During an interview with a Russian state-run media outlet published on Oct. 11, Ri Yong-ho, North Korea's foreign minister, reportedly took a shot at Trump, and threatened military action against the United States. He said, per Reuters,
With his bellicose and insane statement at the United Nations, Trump, you can say, has lit the wick of a war against us. We need to settle the final score, only with a hail of fire, not words.
This is not the first time that the foreign minister has flirted with the idea of war. During a press conference on Sept. 25, The New York Times reported that Ri said,
The whole world should clearly remember it was the U.S. who first declared war on our country.
Since the United States declared war on our country, we will have every right to make countermeasures, including the right to shoot down United States strategic bombers even when they are not inside the airspace border of our country.
Ri is referring, of course, to the infamous speech President Trump made during the United Nations General Assembly in September.
In the speech, Trump honed in on North Korea, taking the time to both threaten the country and throw a jab at its leader. He said,
The U.S. has great strength and patience. If it is forced to defend ourselves or our allies, we will have no choice but to totally destroy North Korea.
The president added that Kim Jong-un, whom he nicknamed "Rocket Man," is on a "suicide mission for himself and for his regime."
Trump has since continued to hint at a potential war with North Korea, in the most ominous ways possible. During an impromptu photo-op with senior military officials last week, the president engaged in a very cryptic exchange. Trump allegedly floated the idea that some sort of military action was about to take place, calling the scene the "calm before the storm," though he didn't offer specifics.
So, that's all very vague, but couple that with these tweets, and it definitely sounds like the president has North Korea on the brain.
In July, North Korea launched an intercontinental ballistic missile, which flew for 45 minutes and landed in the Sea of Japan. According to David Wright, co-director of the Global Security Program at the Union of Concerned Scientists, if the missile's trajectory had been flatter it would have had the ability to reach the United States.
One month later, North Korea fired a missile that managed to make it 1,677 miles and hit a maximum height of 341 miles before dropping. That was the first time that North Korea has successfully fired a missile over Japan since 1998.
Trump has responded to North Korea's potential nuclear threat by firing back and offering up a potentially crushing attack on the country. On Aug. 8, Trump told reporters,
North Korea best not make any more threats to the United States. They will be met with fire and the fury like the world has never seen.
While, of course, North Korea's actions should be taken very, very seriously — taunting a powerful country with war is probably not quite the right solution.
At least, according to a whole bunch of Americans.
A poll conducted between Sept. 28 and Oct. 2 by the Associated Press-NORC Center for Public Affairs Research showed that 65 percent of Americans believe Trump's rhetoric is making tensions between the United States and North Korea worse. Fourty-five percent of people polled think he's made the situation much worse. A slim 8 percent believe he's making the situation better.
Plus, according to experts weighing in on the situation, Trump might actually be doing North Korea's regime a favor by slamming it so much. His statements against North Korea could be used to fuel propaganda against the United States and legitimize a nuclear war. Marcus Noland, executive vice president at the Peterson Institute for International Economics, told The Washington Post,
"President Trump has handed the North Koreans the sound bite of the century. That [United Nations] footage will be used time and time and time again on North Korea's state television channel.
Here's hoping Trump gets very, very distracted by something new and shiny and drops all this military rhetoric altogether.