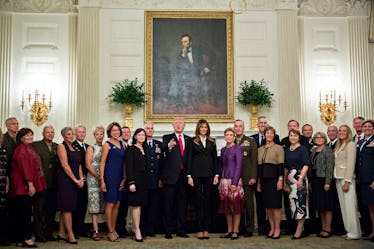 Donald Trump Warns Of "Calm Before The Storm," Terrifies Everyone
Pool/Getty Images News/Getty Images
This has been a busy week for President Donald Trump: He visited hurricane-ravaged Puerto Rico, where he lobbed paper towels into the crowd like he was taking free throws and told a family without electricity or water to "have fun." Then he went to Las Vegas after the devastating Oct. 1 shooting and refused to discuss gun violence or gun control. And now? He's busy making the world nervous with cryptic comments. At an Oct. 5 event for military officials and their spouses, Trump told the press pool that this moment was the "calm before the storm."
He made the comments during a photo op with military personnel and their spouses after a White House dinner, according to several outlets including CBS News. Surrounded by about thirty people, Trump gave the thumbs up and smiled in between comments to the press. Then he made his doomsday prediction.
"You guys know what this represents?" he asked reporters. "Maybe it's the calm before the storm."
Asked to clarify, he repeated his "calm before the storm" line. He then followed up, "We have the world's great military people in the storm. I will tell you that."
Again, asked for clarification, he said, "You'll find out."
Given the event at which he made the comments — a dinner with military personnel — the comments seem to be hinting at military action.
The timing is particularly disturbing: Trump has spent the last few weeks threatening military action against North Korea, which has continued to develop its nuclear program and is now reportedly able to produce missile-ready nuclear weapons. In August, he told reporters he would show the small country "fire and fury like the world has never seen."
Trump has also bafflingly called Kim Jong-un "rocket man" and "little rocket man" on Twitter — and even in a speech to the U.N. General Assembly. He has consistently undermined Secretary of State Rex Tillerson's comments that the U.S. was working on diplomatic solutions.
It seems, then, that Trump was pretty likely referring to military action against North Korea. He is many things, but subtle is not one of them.
But even without intimate knowledge about what the hell is going through his mind, the comments are nonetheless disturbing.
You don't want to hear sinister prophecies uttered from the mouth of a man who is Commander in Chief of the largest military in the world. (A military that is so large, in fact, that the U.S. outspends the seven biggest militaries in the world combined, according to The New York Times.)
One particularly disturbing aspect of his semi-announcement was the pleasure it seemed to give him. He smirked and chuckled as he played coy about the potential death of millions.
This is one of myriad examples of Trump treating the presidency like an extension of his reality show, The Apprentice, and coverage of his varying statements as fodder for ratings. For example, Trump discussed his infamous and appalling pardon of former Arizona Sheriff Joe Arpaio in terms of television ratings, according to CNBC.
"I assumed the ratings would be far higher than they would be normally," he said about the pardon.
And it's also upsetting to note that his smirking announcement seems to show a man largely unaffected by the suffering that has fallen upon the country he is supposedly leading.
This week, a mass shooting in Las Vegas left at least 59 dead and hundreds more injured. It was the worst mass shooting in modern American history. And millions are still without water and electricity in Puerto Rico — a whopping 95 percent, according to ABC News.
His announcement also comes at the same time that his Department of Justice has reportedly decided to stop employer discrimination protections for transgender people under Title VII of the Civil Rights Act. Everything seems to be a joke for him, because as a billionaire real estate magnate and a draft dodger, he is, and was, and will likely continue to be immune to the disastrous consequences of decisions — like starting a global nuclear war — that he makes so he can watch himself on the news.