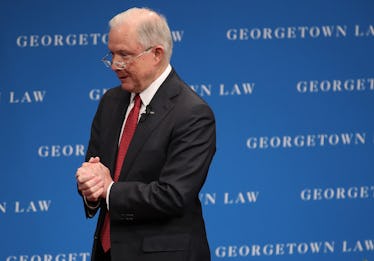 Trump Administration Reverses Obama-Era Trans Discrimination Protections
Win McNamee/Getty Images News/Getty Images
The Trump administration has only been in the White House for 258 days, but the negative impact they've had on many Americans has made it feel like years. During his tenure in the White House, President Donald Trump has gone after some of the most vulnerable people in the country, including transgender individuals — and his vendetta continues. Buzzfeed has reported that, as of Oct. 4, Attorney General Jeff Sessions has reversed an Obama-era policy protecting trans individuals under Title VII of the Civil Rights Act.
Sessions sent a memo to agency heads and U.S. attorneys on Wednesday, Oct. 4, which Buzzfeed obtained. It reportedly reads,
Title VII's prohibition on sex discrimination encompasses discrimination between men and women but does not encompass discrimination based on gender identity per se, including transgender status. [...]
Although federal law, including Title VII, provides various protections to transgender individuals, Title VII does not prohibit discrimination based on gender identity per se. This is a conclusion of law, not policy. As a law enforcement agency, the Department of Justice must interpret Title VII as written by Congress.
Sessions' memo states that the government "will take this position in pending and future matters." His memo affects private employers and state and federal government positions. This will have a far-reaching and potentially devastating affect on trans people.
Title VII of the Civil Rights Act "prohibits employers from discriminating against employees on the basis of sex, race, color, national origin, and religion." According to the Department of Labor, this covers both current employees and applicants. Court cases, in the past, have also expanded the Civil Rights Act to include protections based on pregnancy, sexual orientation, and instances of sexual harassment.
So it's not unsurprising, or unexpected, or even unprecedented that the DOJ under the Obama administration passed a 2014 directive protecting the entire LGBT community from employment discrimination. While the language of Title VII itself says "sex" and not gender, the Obama-era policy expanded the definition to include both gender and gender identity in line with established case law on the matter.
In other words, under the Obama-era policy, if a trans person were applying for a job, a company could not legally disqualify that person based on their gender identity, or fire an employee for being trans — vitally important for trans people who are, according to the D.C. Office of Human Rights, subject to rampant discrimination both in the application process and as employees.
But now, Sessions has rescinded the 2014 directive and stated that Title VII will only apply to "men and women" — language which reveals his disturbing dehumanization of trans people.
This is not the first time the Trump administration has gone after trans Americans.
During the early days of his administration, Trump's Department of Education and the DOJ rescinded protections for transgender students, reversing a guidance that the Obama administration released in May 2016 in response to a slew of "bathroom bills" targeting trans students, per CNN.
And, of course, in July, Trump announced on Twitter that he would be banning transgender people from the military, citing "tremendous medical costs and disruption" as the reason for the ban. The White House released its official directive a month later — which the Department of Defense said would be delayed until an impact study could be completed. The administration is also being sued for the trans military ban.
But trans people aren't the only ones the Trump administration is targeting.
Just last week, the DOJ argued in court that Title VII doesn't protect gay people from employer discrimination either, per Bloomberg.
Sessions also directed the DOJ to "pull back" on civil rights suits against police departments across the country in February, despite policy brutality disproportionately affecting people of color.
Trump also signed an executive order in January — one of his first actions as president — banning individuals from several Muslim-majority countries from entering the U.S., citing safety. He re-issued a similar executive order in March in an attempt to avoid legal trouble on the basis on religious and racial discrimination. After being plagued by legal troubles, the administration released an updated version of the travel ban on Sept. 22, which includes several non-Muslim-majority countries.
There are myriad other examples of the ways in which the Trump administration continues to eat away at civil rights and the safety of many Americans: the DOE's decision to rescind a Title IX directive on campus sexual assault, the DOJ's decision to end DACA, and more.
So perhaps it's not surprising that Sessions has rescinded these protections for trans people. But it's no less devastating.