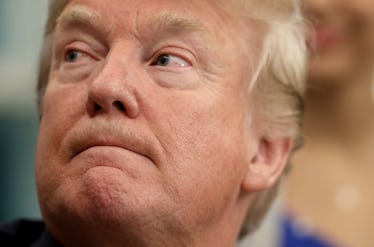 Donald Trump & Kim Jong-Un Finally Met & The Video Has Me Shook
Win McNamee/Getty Images News/Getty Images
For the past year, President Donald Trump and North Korean dictator Kim Jong-un have had an extremely volatile relationship, which is why many of us didn't know what to expect when it was announced that the two would be meeting for the first time at a summit in Singapore. Fortunately, though, the video of Donald Trump and Kim Jong-un's first meeting show they're completely cordial and respectful of one another. At least for now.
On June 12 in Singapore, the two made history by being the first leaders of their countries to meet face-to-face, in hopes to begin building a relationship and start discussions about denuclearizing the Korean Peninsula. After entering two different sides at the Capella resort on Sentosa Island in Singapore, Trump and Kim immediately shook hands, (hopefully) signaling new beginnings for the two countries.
At the beginning of the meeting, Trump even shared some encouraging words about their encounter, saying, per NPR:
I feel really great. This is an honor for me to be here, and we will have a terrific relationship going forward. We're going to have a great discussion, and I think, tremendous success.
Kim added via a translator, smiling, "Well, it was not easy to get here." He said their past had "placed many obstacles in our way, but we overcame all of them and we are here today."
The one-on-one was expected to be around 45 minutes, which seems like more than enough time to get the ball rolling.
On June 11, the White House announced that the two would meet for a longer 90-minute meeting following their first sit-down, where Kim and Trump will be joined by a larger group of officials from both nations. Afterwards, they'll have a "working lunch" with an even more officials, followed by a press conference, where Trump is expected to take questions from the media just before departing Singapore at around 8 p.m. local time.
Although the summit is a jam-packed event (and the fact that Trump and Kim have exchanged more nuclear threats and personal jabs than you can probably count), during a press conference in the White House on June 7, Trump stated that he was "very well prepared." He continued, "I don't think I have to prepare very much. It's about the attitude."
"It's about willingness to get things done. But I think I've been preparing for the summit for a long time," Trump added. "As has the other side… They've been preparing for a long time, also. So this isn't a question of preparation, it's a question of whether or not people want it to happen, and we'll know that very quickly."
Although there are many people who have definitely wanted this meeting to happen, it almost didn't. North Korea had threatened to cancel the summit because it didn't agree with the Trump administration's demands to unilaterally give up their weapons. On May 16, the country's vice foreign minister Kim Kye-gwan issued a warning about canceling the summit, writing, "If they try to push us into the corner and force only unilateral nuclear abandonment, we will no longer be interested in that kind of talks and will have to reconsider whether we will accept the upcoming NK-US summit," per CNN. But due to the "anger and open hostility" displayed in the statement, Trump announced that the meeting was canceled through a statement of his own, shared on May 24.
But it didn't last long. On June 1, Trump announced that the meeting was back on, and on June 12, it became reality.
It's certainly an extraordinary moment that Trump and Kim have come to together after all the vitriol they've been through over the past months. Now that the first step is out the way, perhaps we'll see more of this moving forward. We can hope.