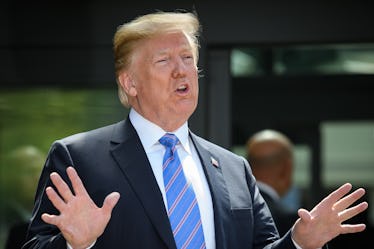 Donald Trump's Leaving His Meeting With Kim Jong-Un Early, & Why Am I Not Surprised
Leon Neal/Getty Images News/Getty Images
President Donald Trump is just hours away from his historic meeting with North Korean dictator Kim Jong-un, which will be taking place in Singapore on June 12 local time. The summit has been months in the making, and the hope is that Trump and Kim will be able to establish some sort of a positive relationship, with the eventual goal of denuclearizing the Korean Peninsula. So, how long is Donald Trump's meeting with Kim Jong-un? Apparently it won't be that long — which could either be a good thing or a bad thing.
The original plan was for the summit to go on for a few days. Just last week on June 7, Trump said in a news conference that the summit could go on for "two [or] three" days "depending on what happens," according to The Hill. However, as the actual meeting approached things... changed. After Bloomberg News reported on June 11 that Kim had bumped up his departure time on June 12 to 4 p.m. local time, Trump followed suit and also reportedly decided to leave Singapore earlier than originally expected, meaning that Trump and Kim will meet for less than 12 hours. So, not a lot of time for pleasantries.
And the actual one-on-one meeting will be even shorter. The June 12 summit will reportedly begin with a 45 minute meeting between Trump and Kim at 9 a.m. local time, where they will be accompanied only by translators, according to Politico. The White House announced on June 11 that the initial 45 minute meeting will be followed by a longer 90 minute meeting, where Kim and Trump will be joined by a larger group of officials from both nations, followed by a "working lunch" with an even larger group of officials. Trump is expected to take questions from the media just before departing Singapore at around 8 p.m., local time.
Trump and Kim's alone time is limited to just 45 minutes. How that meeting plays out will dictate how the rest of the summit's events will go, so the short time frame could either be just enough time to set the right tone for the day, or not enough. That question won't be answered until after the day's events has wrapped. Until then, the world will just have to sit and wait patiently to see what happens next.
There's no telling how the meeting between Trump and Kim will go. There's already been a few bumps in the road between these two leaders, including the threat of calling off the summit altogether. On May 16, North Korea's vice foreign minister Kim Kye-gwan issued a statement where he threatened to call off the meeting, saying that if the U.S. wishes to "force only unilateral nuclear abandonment" on North Korea's part, they will no longer accept the invitation for the summit, per a translation from CNN.
Trump then formally canceled the meeting on May 24, but then announced that the meeting was back on as previously scheduled just a few days later on May 30. So there's already been a bit of back-and-forth between these two nations. But now that it's down to the wire, there's no more wiggle room or time to back out. This is happening, people. Brace yourselves.
Unless something crazy or dramatic happens in the next couple of hours (ugh, I hope not), this meeting between Trump and Kim will play out as scheduled. Trump has a chance here to prove himself as an effective diplomat. This summit will be his most important meeting as President of the United States to date, and it is in everyone's best interest to want him to succeed. Trump may have not had much success to show for since he assumed office in January 2017, but I'm really rooting for him on this one.