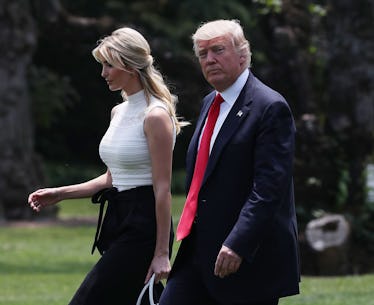 Donald Trump Was Apparently Not Too Pleased With Ivanka Trump Calling Out Roy Moore
Mark Wilson/Getty Images News/Getty Images
According to a report from Jonathan Martin, Maggie Haberman, and Alexander Burns in The New York Times, President Donald Trump was annoyed with Ivanka's comments on Roy Moore, the Alabama Senate candidate who has been accused of pursuing several women while they were teenagers and he was in his thirties. Moore has denied allegations of sexual misconduct, calling them politically-motivated attacks. While many Republicans have called for Moore to step out of the race, President Trump has maintained support for him.
Ivanka Trump, on the other hand, has made her opinion about Moore quite clear. In an interview with the Associated Press published on Nov. 15, Ivanka Trump said about Moore that "there's a special place in hell for people who prey on children."
"I've yet to see a valid explanation and I have no reason to doubt the victims' accounts," the first daughter added about Moore.
"Do you believe this?" President Trump said about his daughter's comments, according to The New York Times. He apparently "vented his annoyance" about Ivanka's remarks, per the Times, who heard from three staff members.
President Trump has continued to support Moore, despite members of his own party calling for Moore to drop out of the Senate race. "He says it didn't happen and, you know, you have to listen to him also," Trump said about Moore on Nov. 21 while speaking to reporters.
Trump continued his support for Moore in a series of tweets on Sunday, Nov. 26, saying that his Democratic opponent, Doug Jones, "would be a disaster."
Republican Senate Majority Leader Mitch McConnell, meanwhile, called for Moore to "step aside" from the Senate race. McConnell went on to say that he believes the women who have been speaking up against Moore. Republican Senators Orrin Hatch and Susan Collins agreed with McConnell on this.
"These are serious and disturbing accusations, and while the decision is now in the hands of the people of Alabama, I believe Luther Strange is an excellent alternative," Hatch said in a tweet.
"I did not find his denials to be convincing and believe that he should withdraw from the Senate race in Alabama," Collins said in her own tweet.
Should he win the election, some Republican senators, such as Cory Gardner, have raised the idea of expelling Moore from the Senate. That's a rare process that involves a vote in the Senate.
The Alabama Senate election between Moore and Jones is supposed to happen on Dec. 12. It is a special election to fill the seat that Jeff Sessions left after Trump picked him to be U.S. Attorney General. A poll released on Nov. 16 showed Jones ahead of Moore by eight points.
Ivanka Trump's comments are now being used against Moore in the race. Jones put out a new campaign ad on Nov. 20 that features several Republicans' negative comments about Moore. Jones' ad prominently includes Ivanka Trump's response to the allegations about Moore. Given the weaponizing of Ivanka's comments, it makes sense that President Trump would be frustrated with his daughter.
But, according to The New York Times, President Trump has reasons aside from politics to continue his support for Moore. Trump is reportedly willing to believe that Moore is being falsely accused of sexual misconduct because he feels a sort of empathy for him. This is because of the response to the Access Hollywood tape, which came out about a month before the 2016 presidential election. Following the release of that tape, many women came forward with claims of sexual misconduct against Trump. At that time, many people called for Trump to drop out of the race. Trump, obviously, did not drop out of the race. The White House's official stance is that the women who have accused Trump of sexual misconduct are liars.