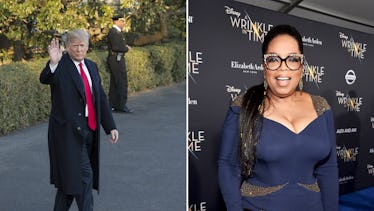 Donald Trump Said He Wants To Run Against Oprah In 2020, So Break Out The Popcorn
Pool/Getty Images News/Getty Images/ Alberto E. Rodriguez/Getty Images Entertainment/Getty Images
President Donald Trump has set his sights on one of the most popular women in America: Oprah. Since January's Golden Globes, where Oprah dished out an awe-inspiring speech, people have been calling for Oprah 2020. With all the love and fanfare following speculation about an Oprah bid for the Oval Office, it's probably not surprising that Trump himself has weighed in. Apparently, Donald Trump wants to run against Oprah in 2020 because he thinks he can beat her. OK, time to get out that popcorn — because this should be interesting.
At a March 10 campaign rally for Pennsylvania state Rep. Rick Saccone in Moon Township, Pennsylvania, Trump announced that the person he'd most like to run against is Oprah, according to The Hill. "Oh, I'd love Oprah to win," Trump said. "I'd love to beat Oprah. I know her weakness."
The president, without pointing out what he "knows" Oprah's weakness to actually be, backed up his claim by taking a walk down memory lane to the time he and his family were on The Oprah Winfrey Show back in 2011. Pointing out how far they've come and how much has changed, he said, "I'm now president." Trump continued,
But think of it, I know her weakness. Wouldn't we love to run against Oprah? I would love it. I would love it. That would be a painful experience for her.
People have been really into the idea that Oprah might run for president.
At the 2018 Golden Globes, after winning the Cecil B. DeMille award for "outstanding contributions to the world of entertainment," Oprah delivered an impassioned speech about race, gender, and equality. Her speech emphasized that all the men who have been in power till now and used their influence to silence women, that "their time is up." The speech was of course referring to the Times Up movement for gender equality, which dominated the 2018 awards season.
That was all it took. Twitter went off immediately. Everyone was buzzing with the notion that Oprah might throw her name in the hat for 2020.
Trump is... less so.
During a meeting with lawmakers to discuss immigration on Jan. 9, Trump responded to the idea of Oprah 2020. He said "Yeah I'll beat Oprah. Oprah would be a lot of fun."
That was not enough. The whole issue got dragged up again in February, when Oprah moderated a panel on 60 Minutes that included both pro- and anti- Trump voters in Grand Rapids Michigan. She asked a slew of questions covering Trump's first year in office.
Trump apparently did not like what he saw and decided to come at Oprah on twitter. Trump called her insecure and expressed how much he'd look forward to beating her in 2020.
Just watched a very insecure Oprah Winfrey, who at one point I knew very well, interview a panel of people on 60 Minutes. The questions were biased and slanted, the facts incorrect. Hope Oprah runs so she can be exposed and defeated just like all of the others!
The fact that Tump believes that he could beat Oprah so easily is, well, hilarious.
Just to get one thing out of the way, Oprah has already expressed that she does not intend to run for president in 2020. In a Jan. 25 interview with In Style Oprah talked about running for president. "It's not something that interests me," She said. " I don't have the DNA for it."
However, Trump's hubris is quite shocking here. (Well, I mean, not that shocking if you have been following along. It's no secret Trump thinks very highly of himself.) But, it's Oprah. People love Oprah.
On March 11, the day after Trump declared his inevitable swift and easy victory over Oprah, Trump also tweeted that if we happen to be surfing through channels and hear a pundit talking about low Trump approval ratings, we should turn the show off because they are lying. He wrote,
Rasmussen and others have my approval ratings at around 50%, which is higher than Obama, and yet the political pundits love saying my approval ratings are 'somewhat low.' They know they are lying when they say it. Turn off the show - FAKE NEWS!
Turns out his own number is actually "fake news." According to Newsweek, Rasmussen has Trump at a 44% approval rating, a whole six points lower than he claimed in his tweet. To top it off, Rasmussen gives the president a higher rating that all the other polls. A February 26 CNN poll put the president's approval rating at a dismal 35%, back to its all-time lowest. Meanwhile, a Politico poll, on March 7, placed Trump at 36% and a generic Democratic candidate at 44%.
If Politico is correct in stating that any generic Democratic candidate could, at this point in time, steal Trump's seat in the Oval Office, then certainly Oprah could.
According to a 2017 Public Policy Polling Survey, Oprah received a 49/33 "favorability rating nationally" and would "lead Donald Trump 47-40 in a hypothetical 2020 presidential contest." That was a year ago. A year less of the Trump administration, not to mention before Oprah sent the internet ablaze with her Golden Globes speech.
Trump might want to reconsider his confidence when it comes to going after pretty much the most popular woman in America — well, other than Michelle Obama. Speaking of, Winfrey/Obama 2020 anyone?