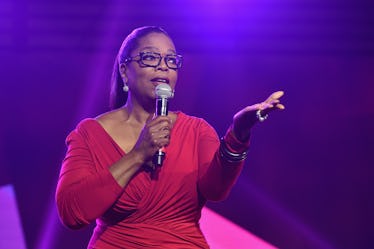 Oprah Finally Responded To Those Presidential Campaign Rumors & It's Crushing
Paras Griffin/Getty Images Entertainment/Getty Images
Less than a month after her speech at the Golden Globes sparked speculation about a potential White House run, Oprah Winfrey has responded to the presidential campaign rumors. In an interview with In Style magazine, the 63-year-old media mogul directly addressed the question of how she felt about running in 2020, telling editor-in-chief Laura Brown that campaigning for the next presidential election doesn't interest her. The interview was published on Thursday, Jan. 25.
During the conversation, Winfrey says, "I've always felt very secure and confident with myself in knowing what I could do and what I could not. And so it's not something that interests me. I don't have the DNA for it."
Despite the fact she appears to have made up her mind about not running for president, Oprah did seemingly admit to having a meeting with a person who works in politics. "I met with someone the other day who said that they would help me with a campaign" she told In Style. "That's not for me."
While Oprah's quotes clearly indicate she would be uncomfortable in the political arena, she also discussed the area in which she feels totally comfortable: interviewing.
Last fall, Oprah became a correspondent for 60 Minutes, the famous television news magazine. When asked about how it felt to return to a role in which she could conduct interviews on network television, she said, "I have to say the core of me is about conversations. Exploring the depth of our human experiences. That is what I do. That is my calling. Whether I do that through dramas, producing stories with OWN [the Oprah Winfrey Network], or one-on-one conversations that matter, I know that's what I'm here to do."
Oprah's shut down of the 2020 rumors comes just as poll numbers show she would be a favorable candidate. In a CNN survey that asked registered voters who they would vote for in hypothetical one-on-one races, 51 percent of people said they would vote for Oprah if the choice was between her and President Donald Trump. (Trump tallied 42 percent of votes in the hypothetical race.)
How The Rumors Began
By her own admission, the subject of Oprah making a run for the White House had increased in plausibility as Trump rose to political power. During an interview last year, Oprah told Bloomberg's David Rubenstein that the result of the 2016 presidential election changed her perception of what was possible.
"I actually never thought that that was — I never considered the question even a possibility. I just thought, oh, oh ... I thought, 'Oh gee, I don't have the experience, I don't know enough,' and now I'm thinking, oh, oh," she said during the March 2017 interview.
The rumors really took off, though, when Oprah gave a rousing speech at the Golden Globe awards that captured the attention of social media and political news broadcasts.
While receiving the Cecil B. DeMille Award, Oprah said,
I want all the girls watching here now to know that a new day is on the horizon! And when that new day finally dawns, it will be because of a lot of magnificent women, many of whom are right here in this room tonight, and some pretty phenomenal men, are fighting hard to make sure they become the leaders who take us to the time when nobody ever has to say 'Me too' again.
The idea of a potential Winfrey campaign gained so much attention that even President Trump addressed the rumors.
"Yeah I'll beat Oprah," Trump said, during a televised meeting with members of Congress. "Oprah would be a lot of fun, I know her very well."
By the looks of Oprah's most recent comments on not running for president, it doesn't look like we'll be witnessing any of that fun in 2020.