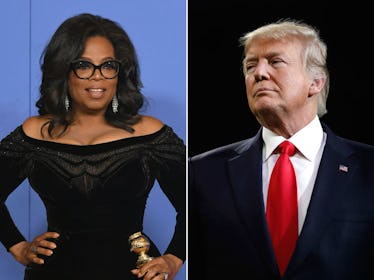 Trump Finally Broke His Silence On Oprah 2020 & He Seems Nervous
Kevin Winter/Jamie Squire/Getty Images
In a turn of events that shocked the world, it took Donald Trump more than 24 hours to respond to a pop culture moment — and when he did react, it didn't even happen over Twitter. But in keeping with character, Trump's response to talk about Oprah running for president was both a humblebrag and a show of ego. This all comes in response to an ongoing conversation spurred by the Golden Globes, which took place on Sunday, Jan. 7.
"Yeah, I'll beat Oprah," Trump told reporters on Tuesday, Jan. 9 during a meeting that was supposed to be about immigration. "Oprah would be a lot of fun."
During the award show, Oprah Winfrey was present to accept the Cecil B. DeMille Lifetime Achievement Award. During his opening monologue, Seth Meyers discussed his possible accidental influence on Trump, and he then turned that thought to the concept of Oprah 2020. Meyers said,
I told some jokes about our current president at the White House Correspondents' Dinner — jokes about how he was unqualified to be president — and some have said that night convinced him to run. So if that's true, I just want to say: Oprah, you will never be president! You do not have what it takes!
And as these discussions were going on, of course people were waiting to see if Trump would respond to it all.
But in fact, Trump did not go for a nasty woman tweet to respond to the talk.
Instead, he just answered a question from a reporter on Tuesday. What a show of restraint! (Wow my standards are so low these days.) While Trump did say that he'd beat Winfrey, he also offered some words of praise... along with a brag.
"I know her very well," Trump said. "You know, I did one of her last shows. She had Donald Trump (this was before politics) her last week, and she had Donald Trump and my family, it was very nice. No, I like Oprah. I don't think she's gonna run."
And with that string of thoughts, we have our official reaction.
This is actually not the first time Trump has spoken about Winfrey and the office of the presidency.
Back in 1999, Larry King asked Trump who his running mate would be should he run for president, and he said his first pick for vice president would be Oprah. Then, in 2015, after Trump announced his new run for presidency, George Stephanopoulos asked Trump if he would still pick Winfrey to run with him. Trump's response then sounds a lot like his response on Tuesday.
"I like Oprah, what can I tell you? She's great, she's talented, she's a friend of mine, she's a good person ... I mean, is that supposed to be bad a thing? I don't think so. No, I like Oprah. I think Oprah would be great, I'd love to have Oprah. I think we'd win easily actually," Trump said in 2015.
So there's just one obvious difference: If she ran with him, "we'd win easily," but if she ran against him, "I'll beat Oprah."
All of this talk is pretty moot given that Oprah herself has not actually spoken about running for office.
The conversation about Winfrey running for president has been driven by fans, detractors, political fan fiction writers, and sources who are not Oprah Winfrey. Even the initial conversation was not started by her; it was started by Meyers' joke. While Winfrey did give an inspiring speech at the Golden Globes, nowhere in there did she talk about running for president. Instead, she spoke about how she hopes that her success will inspire "some little girls watching."
Well, at least one little girl watching was inspired: Ivanka Trump. The first daughter tweeted praise for Winfrey's speech on Monday night. Given that Winfrey's speech praised the press and called for the rise of women speaking up against sexual misconduct and the barriers it creates, I, for one, am interested to know how Trump feels about his daughter's response. Maybe we'll get a tweet for that one.