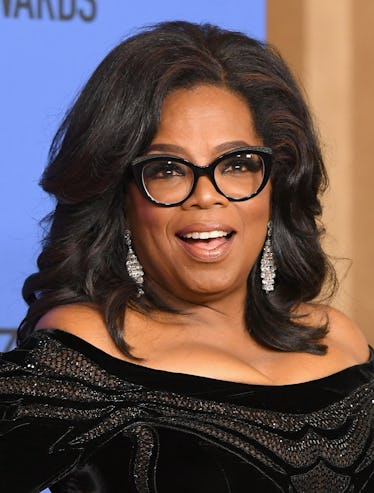 Trump Once Said Oprah Would Be His VP Pick & It's A Lot To Handle
Kevin Winter/Getty Images Entertainment/Getty Images
On Monday, Jan. 8, the morning after the Golden Globes, a video of Donald Trump saying Oprah Winfrey would be his choice for vice president resurfaced. The clip was from a 1999 Larry King interview, when Trump first sought a presidential run with the Reform party. When asked about potential running mates, Trump says Oprah would be his first choice, if she'd do it.
"I'll tell ya, she's really a great woman. She is a terrific woman. She's somebody that's really special. If she'd do it, she'd be fantastic. She's popular, she's brilliant, she's a wonderful woman," Trump said in the interview about Oprah.
The resurfaced video comes as a response to the 75th Annual Golden Globe Awards on Sunday, Jan. 7, during which Oprah accepted the Cecil B. DeMille award for her renowned contribution to the world of entertainment. Upon accepting the award, Oprah delivered an inspirational speech that brought the entire room of actors and entertainers to their feet for a standing ovation. The speech prompted such a powerful response for those that watched, that it left people speculating, should Oprah run for president?
Feeding into the hype was Amy Kaufman, Los Angeles Times writer, who asked Oprah's long-time partner Stedman Graham if Oprah would entertain the thought of running. Luckily, he replied to Kaufman, saying, "It's up to the people. She would absolutely do it." This just about sent people on Twitter into a frenzy.
Here is the video clip from the 1999 Larry King interview:
Now, most people probably could not imagine a world where Oprah accepts the role of vice president under President Donald Trump. But President Oprah Winfrey? That has a certain ring to it.
As the Larry King interview resurfaced on Monday, a video from an interview with ABC's George Stephanopoulos from June 2015 was also brought to light. In the interview, Stephanopoulos asked Trump if his 1999 Oprah remarks meant that Oprah was a real contender for vice president in the 2016 presidential election. Trump gave a indirect answer, but said that he and Oprah would easily win if they did run. His reply was, "I like Oprah, what can I tell you? She's great, she's talented, she's a friend of mine, she's a good person ... I mean, is that supposed to be bad a thing? I don't think so. No, I like Oprah. I think Oprah would be great, I'd love to have Oprah. I think we'd win easily actually."
In an interview with The Washington Post right after the awards show on Sunday, actress Meryl Streep commented on the Oprah hysteria, saying, "I don't think she had any intention [of announcing to run]. But now she doesn't have a choice."
Since the award show, #Oprah2020 and #OprahForPresident have been trending on Twitter, and while some people may be exaggerating, others are quite serious. Many people are also seriously concerned about what electing a pop culture personality into office reveals about the state of our society.
One account broke down the logic behind #Oprah2020 saying, "People saying 'Oprah for President' are simply thinking that, if we're gonna elect someone based on pop culture popularity, at least get someone with a brain & a heart."
While Oprah could easily be up there in terms of admiration and likability with Mother Theresa, she would still technically be a political outsider running for president, just like the last television host who ran and won the presidency. That's not to say Trump and Oprah are anything alike, but they are indeed both from the same world of entertainment, potentially crossing over into politics. The question then is, is this bad? Are we, as a society, moving towards a political arena in which we give leaders in entertainment the chance to lead our country? What does that reveal about how we feel about politicians? It's worth considering what the future of our country will look like if the people we look up to and watch on television are the same ones making executive decisions sitting in the oval office.