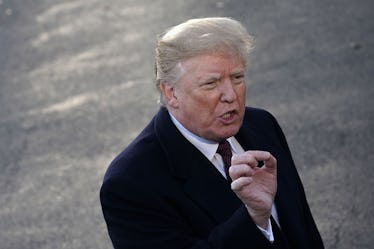 Donald Trump Shared A Meme Accusing His Political Enemies Of Treason, Which, Wow
Alex Wong/Getty Images News/Getty Images
Like most of us, Donald Trump sure does love using Twitter to express his feelings. However, I don't think I'm the only one who sometimes just wants to rip that keyboard from his fingers, and now that Donald Trump retweeted a meme which accuses some very important people of possible treason, I think now's the right time. Here we ago again.
On Wednesday, Nov. 28, Donald Trump took to Twitter to share an image that has some very serious implications. In the photo, images of President Barack Obama, President Bill Clinton, Hillary Clinton, Special Counsel Robert Mueller, Deputy Attorney General Rod Rosenstein, and more appear behind jail bars with the caption, "Now that Russia collusion is a proven lie, when do the trials for treason begin?" Elite Daily reached about to the White House for comment about the meme and Trump's tweet, but did not hear back in time for publication.
It's no secret that Trump has made a few political enemies since taking office, but this picture takes it to a whole other level. Trump retweeted the meme from "The Trump Train" Twitter account, which is a fan account dedicated to applauding Trump's time as president. Talk about the ultimate clap on the back.
In addition to retweeting the meme, Trump also shared tweets from the fan account that discussed the General Motor layoffs, blasting the Federal Assistance program, and the recent violence against migrants at the U.S.-Mexico border.
The meme that Trump shared is problematic for a few reasons, but perhaps the biggest issue is the claim that Russian collusion is a "proven lie," per the tweet. On Nov. 28, Trump suggested via Twitter that Special Counsel Mueller and the rest of his team have been bullying witnesses to lie about possible collusion in order to strengthen their investigation. Despite Trump's claim, there's currently no evidence to suggest that's true. So, even though there's no proof that collusion happened, there's also zero proof that Mueller is guilty of treason.
Mueller's investigation into whether Trump's presidential campaign may have colluded with Russia has been a hot topic for months. Since the investigation started, Trump has consistently denied any collusion between the two parties, but that hasn't stopped the special counsel from continuing to look into it. In recent months, two of Trump's high-level associates, his former lawyer Michael Cohen and his former campaign chair Paul Manafort, have pleaded guilty on charges of financial fraud and conspiracy against the United States, respectively, related to the investigation. Former Trump aide George Papadopoulos and former National Security Adviser Michael Flynn have also pleaded guilty to charges brought by the investigation, and it only seems to be picking up steam.
I don't know about y'all, but this collusion saga feels like it's been going on for decades. However, on Nov. 8, CNN reported that Mueller has been writing up his final report in his investigation. Of course, it's still unclear whether the public will be able to see these findings themselves, but just the thought that this investigation could be coming to a grand finale is almost unimaginable.
No matter how many times Trump may throw shade at his political adversaries, the fight for justice will never slow down. In the meantime, we'll just have to wait and see what happens.