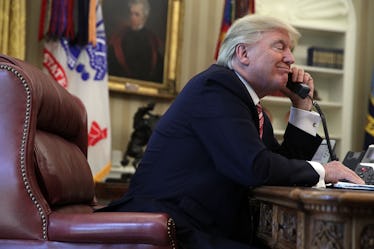 Donald Trump Reportedly Doesn't Get How Time Zones Work, So That's Where We're At Now
Alex Wong/Getty Images News/Getty Images
President Donald Trump may have a penchant for negotiating business deals overseas, but the jury is still out on his aptitude for diplomacy when it comes to the Oval Office. According to a Politico report from Monday, Aug. 13, the president in general has failed to uphold certain diplomatic protocols when interacting with world leaders. Specifically, it appears, Donald Trump doesn't understand time zones when calling his foreign counterparts.
Several White House staffers reportedly told Politico that Trump regularly seeks to call other world leaders at inappropriate times, including during odd hours when they may be sleeping. "When he wants to call someone, he wants to call someone," a former National Security Council staffer under Trump told the publication. "He's more impulsive that way. He doesn't think about what time it is or who it is."
"The president has developed strong relationships and good rapports that are not only friendly, but also allow for candid conversations with many of America's closest allies," White House Press Secretary Sarah Huckabee Sanders said in response, per Politico. "Foreign leaders appreciate that the President is willing to take their calls day and night. ... He has had foreign leaders calls [sic] very late at night and never wants another leader to wait before their call is returned." Elite Daily reached out to the White House for further comment, but did not immediately hear back.
Trump's impulsiveness to call world leaders whenever he feels like it, with little regard for his counterparts' local time zones, flies in the face of standard diplomatic practice, a former State Department official told the outlet. And it's but one faux-pas of a handful that the president has reportedly committed.
Trump apparently has struggled to master some basic facts about other countries. At one meeting described to Politico between the president and his White House staff, the small southeast Asian countries of Bhutan and Nepal apparently came up in conversation. The president reportedly pronounced them as "button" and "nipple," and appeared unfamiliar with them as countries.
"He didn't know what those were. He thought it was all part of India," an unnamed source familiar with the meeting reportedly told the publication. "He was like, 'What is this stuff in between and these other countries?'"
At another moment in a staff briefing before his meeting with Indian Prime Minister Narendra Modi, Trump reportedly had been unaware that Modi and his wife had long been separated, and suggested setting the prime minister up with somebody.
The actions laid out in the report add to a growing body of instances where Trump has broken with diplomatic protocol and eroded relationships with U.S. allies in both actions and words, in private and in public. Since assuming office, Trump has pulled the country out of multiple international agreements, including the Iran nuclear deal and the Paris climate accord, and disparaged several other leaders as he threatened the future of NATO this summer.
Trump has also shown a tendency to get personal, picking fights with world leaders and calling them out by name. He antagonized French President Emmanuel Macron and Canadian Prime Minister Justin Trudeau ahead of the G-7 Summit in June, publicly name-called the North Korean leader Kim Jong-un in September 2017, and did the same to Iran's president Hassan Rouhani in July of this year, among other episodes.
So the account by Politico certainly doesn't seem to bolster a positive international image of the U.S. president, whose ability (or not) to forge successful international relationships could have resounding impacts across the globe.