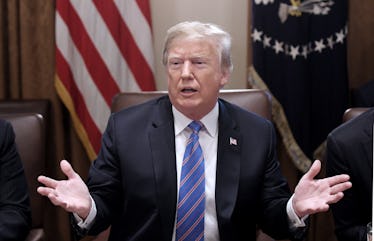 President Trump Tweeted An All-Caps Threat To Iran's President After He Made This Speech
Pool/Getty Images News/Getty Images
Before the weekend was over, President Donald Trump went to digital war with another world leader. On Sunday, July 22, the president attacked Iranian President Hassan Rouhani on Twitter with an all-caps threat. Why Trump tweeted to Iran's president has to do with comments made by Rouhani earlier that day.
Trump's Sunday night tweet, which was sent around 11:30 p.m. ET, came following a speech by Rouhani that day in which he warned that a conflict with Iran would be "the mother of all wars." Rouhani in his remarks also repeated a threat he'd made earlier that week to disrupt oil shipments if U.S. sanctions against the Middle East country continued.
In his Sunday tweet apparently responding to the speech, Trump wrote:
To Iranian President Rouhani: NEVER, EVER THREATEN THE UNITED STATES AGAIN OR YOU WILL SUFFER CONSEQUENCES THE LIKES OF WHICH FEW THROUGHOUT HISTORY HAVE EVER SUFFERED BEFORE. WE ARE NO LONGER A COUNTRY THAT WILL STAND FOR YOUR DEMENTED WORDS OF VIOLENCE & DEATH. BE CAUTIOUS!
The U.S. moved to resume its sanctions against Iran after Trump announced in May that he was pulling out of the "Iran nuclear deal." That deal, formally the Joint Comprehensive Plan of Action (JCPOA), was signed by President Barack Obama in 2015, along with France, Germany, the U.K., Russia, and China. The agreement maintained that the signatories would waive sanctions against Iran on a renewable-term basis as long as it continued to comply with restrictions placed on its nuclear development program. Trump, at the time of the May announcement, also suggested that any countries who assisted Iran's nuclear aspirations would also be subject to U.S. sanctions. Rouhani responded by signaling he'd continue to work with the remaining signatories to the agreement despite the U.S.'s absence.
In backing out of that agreement, Trump decided not to waive the sanctions, a move that a European diplomat at the time told The Hill would "have various consequences...we have yet to fully understand." Now, it appears, some of those consequences are manifesting. In June, as The New York Times reports, Trump went beyond reimposing the previous sanctions, adding a set of restrictions on exports of Iranian oil. The sanctions, an expert told the Times, was unlikely to prove successful given that Iran's suppliers probably wouldn't curtail their support.
The social media tirade also comes following a week that has made diplomats' heads spin. There was resounding backlash after Trump on July 16 appeared to side with Russia over his own intelligence community on interference in the 2016 election after a meeting with Russian President Vladimir Putin. The jaw-dropping event capped off an already provocative week abroad in which the president, in a variety of ways, strained international relations with European leaders. Even before his contentious trip abroad, though, Trump had sown more bad blood with world leaders at the G7 Summit in Canada in June.
In responses to the president's tweet on social media, some theorized that Trump's remarks to Rouhani were a long-game tactic; others saw it as a move by Rouhani to strike up a new deal.
Other users simply expressed fear about what the threats being slung from both sides meant for the future of the world. Another user claimed that Trump's tweet might violate Twitter's terms of use, which forbids threats.
Sen. Ted Lieu, for one, urged citizens who were concerned to push Congress to pass legislation restricting the president's nuclear authority.
The tweet seemed reminiscent of previous threats made by Trump to North Korean Supreme Leader Kim Jong-Un in 2017. But even in the last day, Trump's outburst on Twitter was one of several that doubled down on his position not only on Iran, but a host of other points of contention. As of 10 a.m. ET on Monday, he had already tweeted another eight times following the Iran tweet.