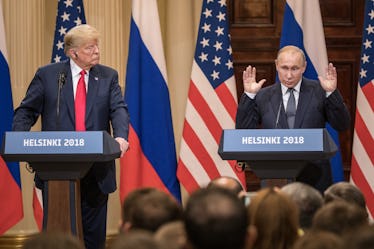 This Is What Trump & Putin Apparently Discussed In Their Helsinki Meeting
Chris McGrath/Getty Images News/Getty Images
On Monday, July 16, President Donald Trump met with Russian President Vladimir Putin in the capital of Finland, capping off a weeklong European tour that included stops in Belgium and the U.K. At their summit in Helsinki, Trump and Putin discussed the 2016 election and how they plan to work together to address the issue moving forward. The two leaders also said they spoke about their intention to work together on counterterrorism, cybersecurity, the disarmament of North Korean, and aiding Syrian refugees.
The meeting comes just days after the FBI's investigation into possible meddling and collusion in the U.S. presidential election resulted in the indictment of 12 Russian nationals. At a joint press conference following their meeting Monday, Putin, according to a live translation, said,
The Russian state has never interfered and is not going to interfere into internal american affairs, including election processes. Any specific materials, if such things arise, we are ready to analyze together, for instance.
To carry this out, Putin added, the countries could work together via their working group on cybersecurity. Trump in his remarks confirmed that the topic of Russian interference came up during their bilateral meeting, saying:
During today's meeting I addressed directly with Putin the Russian interference in U.S. elections. ... He feels very strongly about it, and he has an interesting idea.
In response to questions following their remarks, Trump said:
There was no collusion, at all. ... Zero collusion, and it has had a negative impact upon the relationship between the two largest nuclear powers in the world. ... There was nobody to collude with. There was no collusion with the campaign.
In the press conference, Putin also said there was no evidence of collusion. But he also cited an existing international treaty between the countries and said that the U.S. would be able to use that treaty to permit the interrogation of Russian officials it believes may have information on crimes, which Trump called an "incredible offer." Putin added, though, that any conclusions must be decided "by the court," and not by law enforcement.
"I have great confidence in my intelligence people," Trump added, "but I will tell you that President Putin was extremely strong ... in his denial today."
When asked if he wanted Trump to win the election, the Russian president affirmed, saying, "Yes I did, because he talked about bringing the U.S.-Russia relation back to normal."
Prior to the meeting, Trump motioned that he would plan to discuss trade with China and nuclear weapons during the closed-door session. There was no mention of bringing up any of the three big points of tension that has strained the countries' relationships: Russia's annexation of Crimea, its support for Syria's Assad regime, or its alleged interference in the 2016 presidential election.
He added,
I think we have great opportunities together as two countries that frankly, we have not been getting along very well for the last number of years. ... I think we will end up having an extraordinary relationship. ... I really think the world wants us to see us get along.
In tweets ahead of his meeting, Trump said he was "looking forward to meeting with President Putin." But the president also cast blame on various forces for what he characterized as this strained relationship between the two countries.
"Our relationship with Russia has NEVER been worse thanks to many years of U.S. foolishness and stupidity and now, the Rigged Witch Hunt!" he tweeted Sunday, referencing the Russian investigation being led by FBI Special Counsel Robert Mueller. On Saturday, Trump had also taken to Twitter to cast the indictments against Russians and the meddling itself on his predecessor, President Barack Obama.
Friday's indictment against the 12 Russian nationals added to previous indictments issued against another 22 individuals and entities, many of them also Russian. The latest indictment explicitly accused the defendants of hacking and carrying out "a sustained effort" to interfere in the 2016 U.S. election. In light of this, there were calls over the weekend for Trump to use his face time to confront Putin about the allegations against his countrymen. So the world was, in fact, watching to hear what the two leaders might have to say about the issue.
As for the tête-à-tête itself, per CNN, the meeting began about 45 minutes later than its scheduled start time. While Trump was awaiting Putin's plane to land, he stayed back at the hotel. But by the time the Russian president had made it to the Presidential Palace where they were slated to meet, it was Putin who found himself waiting on Trump. Written in a message on the side of the palace were the words "The World Is Watching," a tweet by CNN's Jim Acosta showed.
The meeting between Trump and Putin, which included translators, but no other aides or staffers, went overtime. The Wall Street Journal's Rebecca Ballhaus added that after the 90-minute mark, the two were supposed to be joined by staffers, but had not.
As of 9:30 am, a tweet by Reuters' Jeff Mason showed, the group meeting with aides present had begun. As for why the two were meeting privately, and not being joined by other staffers, CNN reports the White House gave three reasons for the decision: For Trump to avoid getting undercut or interrupted by aides, to cultivate a stronger personal relationship with Putin, and to avoid leaks.
That the appointment with Putin actually came to fruition is itself noteworthy, given that a recently scheduled meeting with North Korean Supreme Leader Kim Jong-Un was called off. The meeting itself was a major source of criticism for Trump, coming just three days after the latest round of indictments in the Russia investigation.
Adding to the criticism was the concern that Putin might use the opportunity to manipulate Trump, who went into the meeting with limited preparation. "Putin has been at this for two decades. He's been dealing with national security and foreign policy issues his entire life, and this is now the fourth American president he's dealt with," Michael McFaul, a former U.S. ambassador to Russia, told Vox. "As a consequence of all that, he knows these issues really well and much better than President Trump does."
Overall, the tone of the meeting, per both leaders' remarks, appeared to be one of a shared cooperation and openness to working together. "A productive dialogue is not only good for the United States and Russia, but good for the world," Trump said. "We are going to have to find ways to cooperate in pursuit of shared interests."
"We are glad at the outcome at our first meeting," Putin said in concluding his remarks. "I think that we made the first important step in this direction."