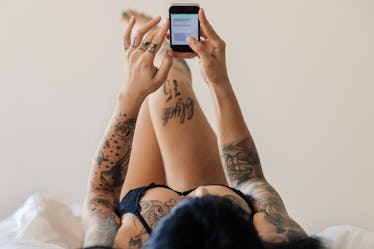 3 People Reveal How Sexting Completely Changed Their Relationship & It's Juicy
The topic of sexting can be a controversial one. There are privacy concerns, of course. Even if you completely trust the person you're sending dirty texts or photos to, you can never be too careful when it comes to your identity being associated with naked pictures. That issue aside, though, especially when you're dating someone long-distance, sexting can help keep the spark alive in a relationship. When you can't physically see or be with your partner, dirty texts, naughty photos, phone sex, and video chats may have to suffice. So, does sexting help relationships? Or is it more work than it's worth?
I spoke to three different people about the role that sexting has played in their romantic relationships, and they each had a lot to say on the subject. Sexting can definitely affect your bond with your partner, though not always in a beneficial way. When both you and your partner are equally into the scenario and are actively participating, sexting can make you feel closer to one another. But there are always two sides to every story, and sexting is no exception. Faking orgasms happens in real life all the time, and it's only that much easier to do over the phone.
Don't just assume that your partner is enjoying themselves as much as you are. Check in consistently and ensure that you're both benefiting from the exchange. Here are some other tips to remember, as well as ways that sexting can improve (or stagnate) your bond with your partner.