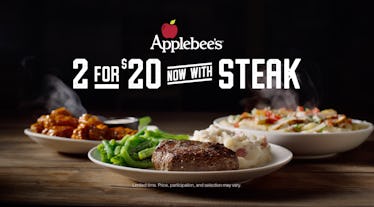 Applebee's Is Expanding Their 2 For $20 Menu & You Need To Get On This
Going out to eat is all about treating yourself. You could keep it simple and stick with a soup and salad order, but some restaurants have such killer deals that you could actually snag a way more substantial meal for the same price. Applebee's has the famous 2 for $20 deal that will leave both you and your fellow dining partner pleasantly full, and even better news is that the restaurant has revamped the menu to include one very hearty entrée that is perfect for a summertime dinner. So, does Applebee's 2 for $20 menu include steak?
Yes, it's true. The next time you head to Applebee's with your bestie, boyfriend, girlfriend, or whoever best shares the delicious deal, you'll have the option to choose a piece of flame-grilled steak as your main course. In a press release from Applebee's, the restaurant announced that as of May 29, the new six-ounce USDA Select Top Sirloin steak will join Applebee's 2 for $20 menu for a limited time. When you order the steak, you'll also get two classic sides, which, from the looks of the photo announcing the new menu item, can include green beans and mashed potatoes.
Stephen Bulgarelli, chief culinary officer at Applebee's, is excited to share this new offering with customers. Bulgarelli said in the press release,
With the addition of our USDA Select Top Sirloin steak and two classic sides to the signature menu, we're firing up the flavor and taking the value in our 2 for $20 menu to a whole new level.
If you're not familiar with the 2 for $20 deal, then let me share some details about one of the greatest deals known to humankind. You get a combination of two full-sized entrées and one one full-sized appetizer for 20 bucks. And yes, the crave-worthy Spinach & Artichoke Dip is on the 2 for $20 menu as an appetizer.
That the deal includes delicious options like the artichoke dip and newly added USDA Select Top Sirloin steak is what makes it such a great buy for customers. Per Bulgarelli in the release, "Our 2 for $20 menu is popular among our guests, because the options we offer are indulgent and satisfying, making the value truly unbeatable."
Applebee's is upping the stakes even more with a chance to "win the ultimate 2 for $20 date night experience at Applebee's," per the release. All you need to do to snag the perfect date night is share a photo or video of an "epic 2 for $20 proposal" on Twitter with the #2for20Contest hashtag between June 4 and June 10. There aren't too many details about what the date will entail, but the 2 for $20 menu is already so awesome on its own that the "ultimate 2 for $20 date night" will probably be the night of your dreams.
The tasty offerings on the 2 for $20 menu will probably leave you a little parched, but don't worry, because Applebee's has plenty of libations to help wash it down. If you're 21 years or older, you can cool down with a Mucho Watermelon Sangria, which is made with Bella Sera Moscato, DeKuyper Watermelon Pucker, cranberry juice, and topped with Mist Twist. To satisfy your summer brew cravings, you can also enjoy a $2 Dos Equis beer through the end of May.
Applebee's is no stranger to treating its customers to some amazing deals. The restaurant previously offered the Applebee's Dollarita, which is — you guessed it — a $1 margarita, in the month of April, and Applebee's customers who cruised through the place this past March took advantage of the $2 vodka lemonade special.
Sadly, those drink specials are a thing of the past, but the flame-grilled steak is available now on the 2 for $20 menu for a limited time. So, grab your best 2-for-$20 pal and enjoy it while it's here.