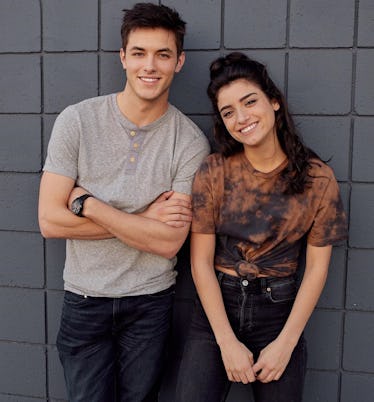 Dixie D'Amelio & Griffin Johnson's Zodiac Signs Might Be Tricky Together
Ever since the younger of the two D'Amelio sisters, Charli, ended things with Chase Hudson (a.k.a. Lil Huddy), Dixie D'Amelio and Griffin Johnson have become TikTok's latest It Couple. After months of dating speculation, the Attaway General costars confirmed their relationship in a June 23 TikTok vid posted by Johnson, and fans couldn't be happier. From their adorable selfies to their sweet collabs to their onscreen chemistry, the Sway House member and the former Hype House member seem totally compatible. That's why it's so surprising that Dixie D'Amelio and Griffin Johnson's astrological compatibility is kind of a hot mess. Sorry, guys. But it's true.
D'Amelio was born on Aug. 12, which makes her a confident and courageous Leo. Johnson's birthday falls on Jan. 13, making him a no-nonsense Capricorn. Despite both being passionate, determined, and very self-aware, lions and goats tend to have totally different priorities. While Leos are drama-loving, thrill-seeking party animals, Caps are far more serious, studious, and self-disciplined. For Leos, life is about living in the moment, while Caps are all about perfecting their 10-year plan. You'd be hard-pressed to find signs as different as these two, and sadly, this isn't usually a case where opposites attract.
Leos were born to stand in the spotlight, so it's no surprise D'Amelio (who, apparently, has been told she's "very Leo-ish") grew up acting and singing in musical theater productions. Since she's not a dancer like her sister, D'Amelio uses her comedy chops to keep fans entertained. "Being able to do comedy, or skits, or just talking on TikTok is kind of my lane and where I stay," D'Amelio explained during an April 2020 interview with Insider. Unlike low-key Caps, lions are happiest when all eyes are on them, because why shouldn't people appreciate their fabulousness?
D'Amelio admits that her TikTok fame was a bit of a happy accident. She didn't join the app with a strategy or marketing agenda — instead, in typical Leo fashion, she acted on a whim and hoped for the best. When asked by fans how she gained her huge following, the Connecticut native doesn't have an answer. "I don't think anyone knows, because no one was trying to [become famous] on this app," she told Insider. Capricorns approach life by thinking three steps ahead, but Leos tend to favor spontaneity. From wild hair transformations to wacky outfits, D'Amelio (as she told Elite Daily in May 2020) is "open to anything."
While I don't think anyone would accuse Johnson of being overly-serious (he creates funny content for a living, after all), the Illinois native has made it clear he's a pretty business- and career-oriented guy. For him, TikTok isn't just fun — it's a world of possibilities. As he told the Statesman Online in Feb. 2019, TikTok fame has changed his life and allowed him to affect change in others' lives. "I love social media for the opportunities and people I have been able to meet," he said. The goats of the zodiac are all about networking, and that def seems true of Johnson.
Caps tend to be wildly ambitious individuals who are always on the lookout for new challenges and career opportunities. In addition to social media domination, Johnson has his sights set on another big accomplishment: a nursing degree. While playing a doctor on Attaway General, Johnson is simultaneously enrolled in the nursing program at Indiana State University. According to the Statesman Online, he's also active in his fraternity, Sigma Phi Epsilon, and serves as Vice President of Recruitment. Let's not forget Johnson also has a line of merch, because if a Capricorn can capitalize on something, they will.
Despite their differences, Leos and Caps do have some things in common. Both signs aren't afraid to dream big and TBH, neither sign is really afraid of anything. As long as a Cap is able to handle a Leo's tendency to be #extra, a Leo-Capricorn relationship has the potential to be unstoppable.