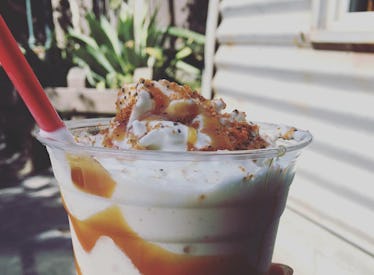 Disneyland's New Pumpkin Spice Shake Is Going To Be Your Fall Obsession
Disneyland is not playing around when it comes to their fall theme park offerings this year, and their newest pumpkin-infused concoction might just be my favorite so far. Basic Bettys should probably start breaking out their cozy sweaters and planning a trip to the Happiest Place on Earth with their girl squad ASAP, because the new Pumpkin Spice Shake at Disneyland sounds so addictive. Summer, it's been real, because fall is now officially the most magical time of the year.
As of September, Disneyland park is now offering their frozen take on the PSL, and it might be, dare I say it, even better than the original. When things start switching over from patio season to sweater weather, there's always that awkward in-between period where it's still 80 degrees outside and you're caught between your desire to imbibe in all things pumpkin and spice and the very real need to cool off with a refreshing ice cream cone. With Disney's Pumpkin Spice Shake, you don't have to choose, which officially makes it the best thing for PSL lovers since Pumpkin Spice whipped cream.
According to a review by blogger Disney Food Blog, you can score one of these bad boys at Flo's V-8 Cafe at Anaheim's California Adventure Park for only $6. Not only does the sweet beverage sound completely delicious — according to Disney Food Blog, they "expected a super pumpkin-y flavor, but it was a richer vanilla with a nice addition of pumpkin spice added in" — but the photogenic frozen sips are also super 'grammable.
According to the blogger, "The cup is lined with a drizzle of caramel, giving it a delightfully oozey appearance. And the milkshake is topped with whipped cream, sprinkles, more caramel, and graham cracker pieces. That last bit is an ode to pumpkin pie, and we love it!" Apparently the flavor of the milkshake is more in line with that "a pumpkin s'more," which is a good thing if you're looking for more subtle pumpkin spice notes in your snack.
The re-usable black pumpkin straw (which is fittingly decorated with a black tire design) is another $6, per PopSugar, but it lights up and is the perfect accessory to enjoy all your Halloween treats leading up to the big day.
Disneyland's Pumpkin Spice Shake is the latest to join the theme park's PSL-heavy pack of Pumpkin Spice funnel cake fries, Pumpkin Spice Churros, and Pumpkin Spice Mickey beignets. With all the festive fried dough that's on offer, it's about time that the park added a themed beverage to the mix. After all, PSL obsession isn't going anywhere.
According to Tylt, which is a social polling and opinion platform for millennials, over half of those polled said that they'd rather give up Instagram for the fall than abstain from drinking Pumpkin Spice Lattes, while just over 71 percent of those surveyed said they'd welcome Pumpkin Spice Lattes on menus year-round. Needless to say, the PSL mania is here to stay, and Disney is taking note. I'd get your fix while you can.