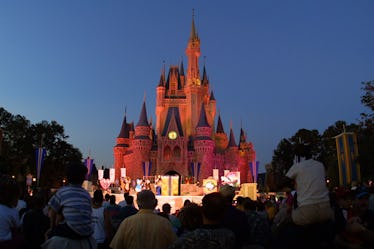 Disney World Finally Has Mickey Mouse Beignets & It's A Dream Come True
Joe Raedle/Getty Images News/Getty Images
Just when I thought Disney World couldn't be a more magical place, they've once again upped their game. The magical kingdom is known for being a land of food and fun, but this recent develop has my mouth watering. Long at last, Mickey Mouse beignets are available at Disney World, and I think it's time for a road trip down south.
The infamous Mickey Mouse beignets have been a trademark of the original California kingdom, Disney Land, for a while now. However, it looks like it's young Florida sibling, Disney World, is finally catching up. As someone who couldn't enjoy a quick weekend trip to Disney Land, I feel completely #blessed that this is happening. These soft, doughy fried masterpieces are not only shaped to resemble Mickey Mouse's iconic ears, but they also are topped with loads of delicious powdered sugar as the (hypothetical) cherry on top.
According to PopSugar, visitors will be able to choose up to three beignets for only $4. You may have to shell out a little bit extra for those dipping sauces, but it seriously seems like the greatest deal ever right? Well, just wait. For those who like to enjoy a nice scoop of refreshing ice cream along with their pastry, visitors can pay just $6 and enjoy Mickey-shaped beignet sundae, which comes with three beignets topped with a scoop of ice cream and sauce of your choosing as well as whip cream. Heaven is a place on earth, and it's apparently Disney World.
Some of you might think my enthusiasm for these pastries is a bit extreme, but just look at these beignets and tell me you're not just as excited as I am.
Yeah, that's what I thought. I don't know how y'all plan to spend your summer, but I, for one, will be jetting over to Orlando, FL in search of these beignets. Plus, these doughy delights aren't the only swoon-worthy options this magical land has to offer. From aesthetically pleasing pink champagne to an equally gorgeous millennial pink pop, I can already see myself raking up these likes on Instagram. After all, is it really a visit to the most magical place on earth if you don't post at least one picture proving to your friends that you're having the best trip ever? I didn't think so. However, if you plan on indulging on these incredible treats (and of course you are) make sure it happens after you enjoy a ride on Space Mountain or Big Thunder Mountain Railroad. Just a pro tip, you'll thank me later.
Personally, not a day goes by that I don't wish I was enjoying thrilling rides and delicious meals in Disney World's bright and sunny space. Plus, since it was announced that Toy Story Land would be opened in Disney World by the end of June, I've seriously been meaning to make a trip down there. On June 21, my childhood heart completely soared when Disney Parks YouTube Channel posted a sneak peak of its most recent attraction. To be honest, it looks absolutely out of this galaxy (see what I did there)? However, according to Ryan Wineinger, one of the Creative Directors of Toy Story Land, this short clip doesn't show nearly half of how amazing this place will be. Be still my heart.
He said,
You think you understand just how dynamic it's all gonna be when it comes together, but frankly, nothing can really prepare you for the moment when you see all of that come together in harmony like it has tonight.
Magical lands, delicious libations, and now Mickey Mouse beignets? Oh Disney World, I love you so much.