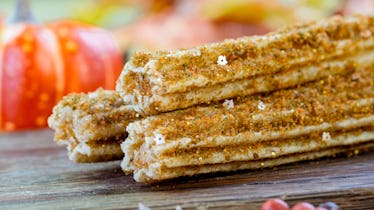 These Pumpkin Spice Churros At Disneyland Will Pair Perfectly With Your PSL This Fall
Courtesy of Disney Parks
It's obvious that Disneyland is a magical place, but it gets even better when Halloween approaches. Between festive park events and spooky snacks, there's nothing quite like it. If you're a PSL lover, you might be wondering if any of those snacks are pumpkin spice-flavored. Well, my friend, the answer is yes — because Pumpkin Spice Churros exist. The thought of a warm, sugary, pumpkin-flavored pastry is making my mouth water, and I'd like to try one as soon as possible. If you feel the same way, you're probably wondering where you can get Pumpkin Spice Churros at Disneyland. Thankfully, there are a few go-to spots.
Disney must understand how serious fall enthusiasts get about their pumpkin spice-flavored goodies, because the company's blog explains exactly where the churros can be purchased. This way, no one will have to aimlessly wander around the park with their heart set on a pumpkin-flavored delicacy. (I'm sure they'd run into other Halloween-themed goodies, but that's not the point.)
If you're visiting Disneyland in Anaheim, California, visit the following locations in order to score a Pumpkin Spice Churro:
The churro cart near the Haunted Mansion (Disneyland Park)
Willie's Churros (Disney California Adventure Park)
Cozy Cone Motel (Disney California Adventure Park)
Take your Disneyland map out and get hungry. It's time to eat some pumpkin-flavored pastries.
If you're lucky enough, you might even stumble upon a location that offers Pumpkin Spice Churros with Cream Cheese Frosting. According to Disney Park's blog, the churro cart near the Haunted Mansion and the Cozy Cone Motel will both serve the pumpkin-flavored churros with a side of frosting. In my opinion, that's an amped-up fall snack that is totally worth going out of your way for. Pumpkin Spice Churros with Cream Cheese Frosting must taste like freaking pumpkin pie, am I right? (Then again, I haven't tried it yet — so I'll have to go to Disneyland and see for myself.)
Apparently, Pumpkin Spice isn't the only Halloween-themed churro flavor that Disneyland has to offer. Apparently, an Orange Sugar Churro also exists, and can be found at Willie's Churros and the churro cart by Big Thunder Mountain. To make it even better, you can reportedly buy the churro with Candy Corn Sauce at the Big Thunder Mountain location, per Bustle. As someone who's passionate about candy corn, I can't even imagine how delicious Candy Corn Sauce must taste. (I'd probably get an extra cup of it and pour it on absolutely everything.)
You know what? Let's talk about candy corn for a moment. If you love the sugary treat as much as I do, you'd probably be obsessed with Disney World's new Candy Corn Milkshake. The treat — which was released on Aug. 17 as part of Mickey's Not-So-Scary Halloween Party — can be purchased daily at Auntie Gravity's Galactic Goodies at the Magic Kingdom Park. The festive frozen drink is topped with a Mickey-shaped marshmallow, cotton candy, and a Halloween-themed straw. It's pretty much the Insta-drink of the season, and I highly suggest you snap a photo if you buy one.
If you'd rather stick to the Pumpkin Spice Churro, that's totally OK. Hopefully you'll be able to visit the park and find one without hesitation.