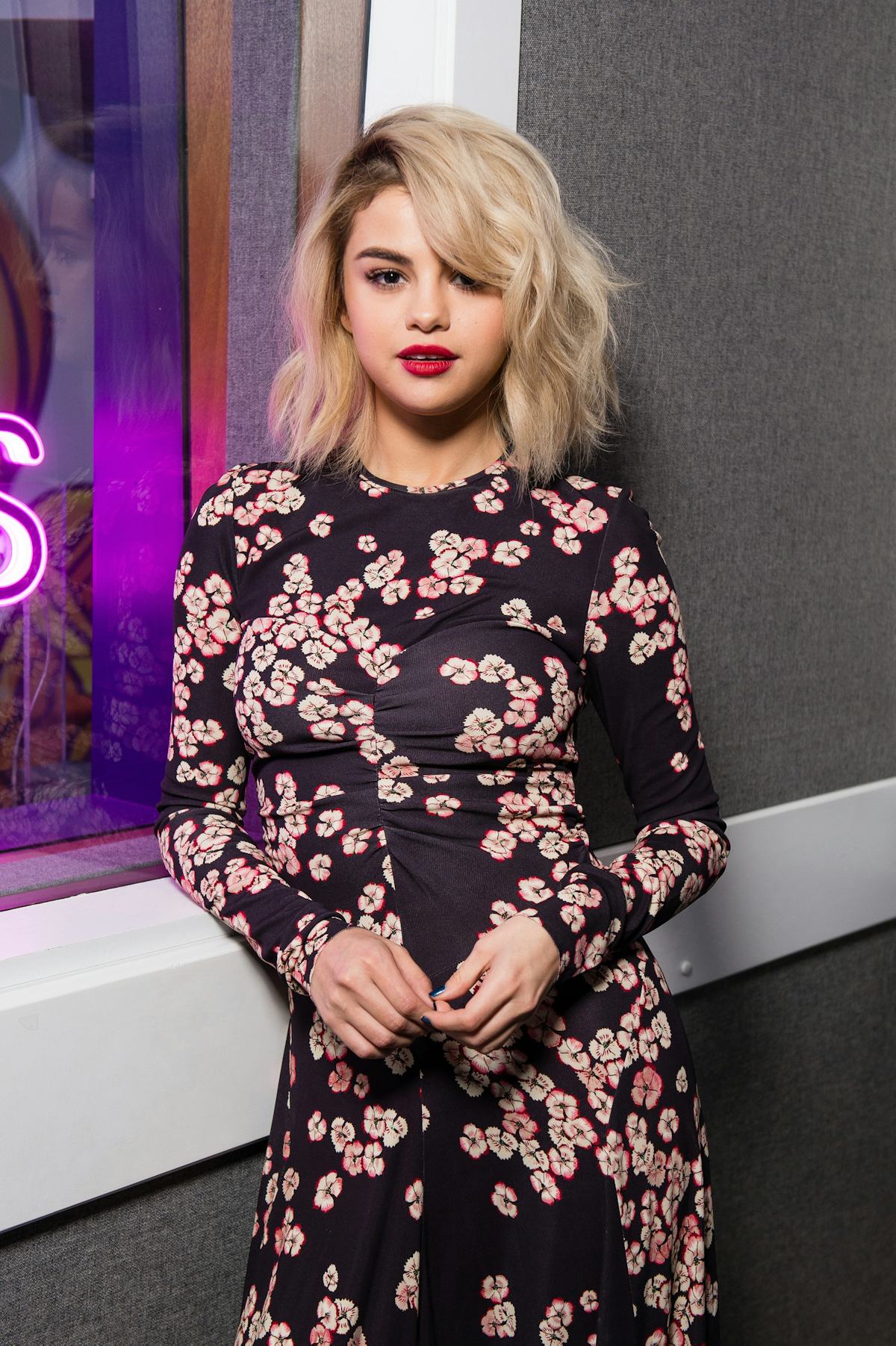 Selena Gomez Got Bangs & She Looks Like A French Bombshell Now
Jeff Spicer/Getty Images Entertainment/Getty Images
Selenators have had a lot to talk about on social media as of late, seeing as their queen bee has been stepping out in shocking look after look. Today's topic? Figuring out the answer to the question we've all been asking: Did Selena Gomez get bangs? As the most followed person on Instagram, it's only natural the songstress' every beauty and fashion move get tracked, dissected, and copied. She sets trends, so it makes sense that people want to know exactly how to replicate her looks.
In photos taken at the Coach x Selena Gomez event, which was held in London on Dec. 4, the singer appears to have gotten shaggy new brow-skimming bangs. She looks amazing in them (they're total French girl hair goals) and opted to pair them with a burnt clay lip shade for an especially chic effect. The bangs make her look even more the part of the icon she is (just as they did for Anna Wintour, Jane Birkin, and Brigitte Bardot, among others,) but we can't figure out whether or not they're the result of a brand new chop or were simply styled in a way we haven't seen before. Cue me pulling out my magnifying glass.
We all know that Gomez debuted one of her most shocking new beauty looks right before the 2017 American Music Awards in the form of a choppy blonde bob. The singer has been previously known for her chocolatey brown locks, so the change was quite a departure from her usual look. The bob, which has me wanting to cut off my own strands, has a ton of layers, giving it a textured beachy effect. It also boasts an expert dye job reminiscent of '90s-era Debbie Harry. Gomez's roots, which remain her natural color, fade out seamlessly into her new lightly golden hue, signifying the work of an experienced professional. (No jarring highlight/ root lines, here.)
If it weren't for social media, it would be hard to tell whether or not the bangs in question were cut as part of this total hair overhaul, since the off-center part and side-swept style she usually opts for could've easily masked them. But after doing a quick dive into the Twitterverse, I can say with confidence that Selena did not get a new bang cut before the Coach event.
How do I know this, you ask? She's been photographed on multiple occasions since the event, rocking her blonde bob in the style she first debuted it. None of the photos show her with shaggy short bangs, and rather prove that her bob and its short layers make for the most versatile haircut of all time. As modeled by Gomez, it can be worn wavy or straight and still look amazing.
As someone with a mass of hair that's super curly underneath and subtly wavy on top, it's hard to find a short crop that works both when I leave my hair natural and blow it out. I think Gomez's new look might be my unicorn. Knowing that her bangs and face-framing layers don't go totally berserk when they're swept away from the face has me convinced that even the waviest of hair could benefit from a similar chop.
Fun story: when I was in preschool a dashing little boy named Duncan once asked me to marry him on the swingset the following day. I said yes and, in preparation for my nuptials, decided to give myself a fresh new look. I attempted to cut my own bangs (the super blunt ones were all the rage at the time) and was left with sprigs of hair one to two inches in length that stood straight out from my head and curled at the end. CUTE! Needless to say, I was not looking my best on my wedding day.
Point being, don't be like young me. Gomez's crop is shaggy and versatile enough that you probably won't leave the salon (or your bathroom) in tears should you decide to opt for it.