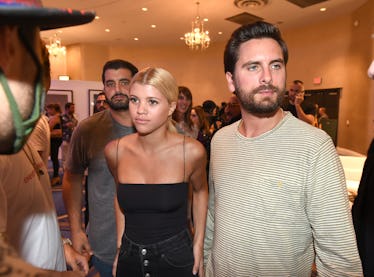 Scott Disick & Sofia Richie Might Have Spent NYE Together, So It's Looking Serious
Romain Maurice/Getty Images Entertainment/Getty Images
The temperatures might've fallen, but things are definitely heating up for a new couple. Fans are beginning to wonder, "Did Scott Disick and Sofia Richie spend NYE together?" Judging from these cozy pictures that made the rounds on the web, it certainly seems like the lovebirds rang in 2018 in a romantic way.
On Saturday, Dec. 30, the two made an appearance in Aspen, Colorado, holding hands and wearing warm jackets. Reports circulated that they were enjoying a date night and planned to spend NYE together the following day, according to Us Weekly. The weather is wicked, so a few cuddles here and there from an SO are certainly in order.
But this dynamic duo didn't let the cold stop their festivities. On Friday, Dec. 29, Richie and Disick were spotted unleashing their inner child. They made a pitstop in a snowy playground to take a spin on a few rides. A little snow never hurt. In fact, it makes things all the more romantic (and gives you an excuse to hold hands).
Disick certainly seems as though he is taking a step in a new direction. Though there were times fans thought his tumultuous relationship with Kourtney Kardashian would never end, the reality star is now forging a new path with someone 15 years his junior... but it seems to be working, despite the numbers.
Just because Disick is getting a little time in the limelight with his new lady doesn't mean we've forgotten about the Kardashians. Au contraire, my dears. In fact, Disick's former flame, Ms. Kourtney Kardashian, decided to cause a little stir amongst her Instagram followers this year. The Instagram caption in her latest holiday photo seems to hint at that alleged pregnancy surrounding her lil' sis, and we can't help but think this post is some sort of clue about Kylie Jenner's pregnancy. Kourt, master 'Grammer, features the photo with all the Kardashian-Jenner women (minus Kylie) and the caption reads, "When you can't find the rest of the family for the photo ..." You are throwing everyone for such a loop, Kourt.
Speaking of Disick's exes, let's turn to another leading lady in the Kardashian-Jenner fam: Kendall Jenner (remember when rumors suggested the two hooked up?). Well, if there's one thing the supermodel is accustomed to, it's rumors... like her latest pregnancy rumor. News began circulating via MTV Australia that the 22-year-old could quite possibly be expecting after she posted a bathroom selfie in a skin-tight number. In the picture, she is donning a white dress with black polka dots and some lovely red lipstick. It's an adorable outfit, but fans shifted their attention to her midriff.
But Kenny had a perfect clap back for those who decided to start rumors. Jenner replied to the tweet and said, "i just like bagels ok!!! and linked back to the MTV Australia article. Guess the joke's on the super sleuths who tried to fabricate a story.
And then there's Disick's right-hand Kardash, Khloé. She, too, has been focusing on her new relationship with NBA player Tristan Thompson and focusing on their new little bundle that's arriving in 2018. When sharing her "Best Nine" on Instagram, Koko added a sentimental touch to her caption and said,
This past year has been full of love, blessings and happiness! Lord knows I'm grateful for the place I am in in my life! I tell Him daily 🙏🏽 but I can not begin to explain my excitement for everything new in 2018!! Nerves and anxiety are an underestimate. I'm thankful to have a beautiful support system in place to help me celebrate New chapters! New experiences! New beginnings! I'm trusting the magic of NEW this 2018!
Looks like the Kardashian-Jenner family and company are moving right along, Disick included. But let's face it: The main focus right now is King Kylie.
Check out the entire Gen Why series and other videos on Facebook and the Bustle app across Apple TV, Roku, and Amazon Fire TV.