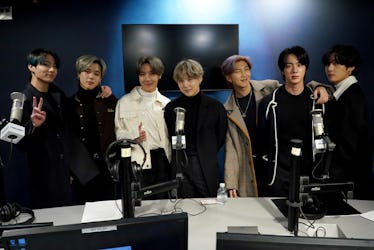 ARMYs Think RM Spoiled BTS' Next Release During Their Chaotic VLIVE
Cindy Ord/Getty Images Entertainment/Getty Images
It's tradition for BTS to hold a livestream whenever they drop a new album, so in celebration of their BE (Essential Edition) release on Friday, Feb. 19, the group took to VLIVE to chat with fans virtually. What resulted was something so chaotic, it was hard for fans to keep up. Instead of just talking about their album drop, BTS had fun by eating snacks, playfully teasing each other, and updating fans on everything going on in their lives. At one point, fans' jaws dropped as they wondered if RM may have accidentally teased BTS' next album or single. So, did RM spoil BTS' next release? Let's find out.
BE (Essential Edition) came just three months after BTS dropped the original deluxe version of their album in November 2020. For a while, fans have been speculating this new release is meant to promote BTS' upcoming projects, like a possible music video for their BE song "Fly To My Room," a Jimin collab with Khalid, or more albums in their rumored BE trilogy series. ARMYs have been paying close attention to the group's social media pages and livestreams for any possible clues either of the three are happening. Finally, they were convinced they got something in BTS' Feb. 19 VLIVE.
The 41-minute stream was all over the place. Fans wouldn't blame BTS if they accidentally spoiled something because they were just having so much fun together.
The moment ARMYs thought was suspicious, however, was around the 38:00 mark when RM randomly yelled out "Go Century" while making an X symbol with his hands. Jimin stared at RM for a bit before they both mischievously laughed together, so it definitely looked like they exchanged some inside joke. ARMYs instantly assumed it was a spoiler about their next project.
It wouldn't be the first time RM accidentally spoiled something and Jimin noticed.
As it turns out, he may not have spoiled at all. One fan said RM actually said "꽃샘추위" in Korean, which refers to the colder weather.
Another fan explained that when you break down the word, "꽃샘" is pronounced as "ggoatsam" and "추위" is pronounced as "chuwee," so when RM said, "goapsam" instead, he was making a joke and referring to the Korean word for multiplication, which is "곱셈." This explains why he did the X sign and Jimin could have merely been teasing him over the pun. It also makes sense because V mentioned the changing weather in Korea just before.
ARMYs, you can relax because, in the end, BTS was just making jokes. They did tease they've been working on new music at the end of the live, though, so there's still new music in ARMYs' future!